How to Analyze People: How to Read and Influence People with the Ultimate Guide to Reading Body Language and Nonverbal Communication -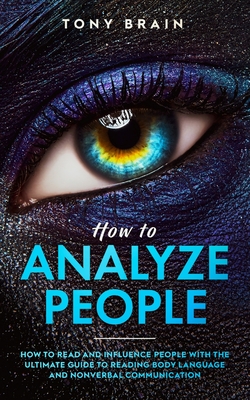 How to Analyze People: How to Read and Influence People with the Ultimate Guide to Reading Body Language and Nonverbal Communication -
Out of Stock In Store
Do you possess the ability to read people accurately in multiple situations through their verbal and nonverbal communication patterns?
Is it possible to decipher precisely how a person thinks or feels even if you do not speak a word about it?
Don't you wish to master an art that will allow you to read people easily while also transforming you into a skilled leader, negotiator, lover, leader, entrepreneur, and more?
Fret not; help is at hand. Here's a book that holds your hand and takes you through innumerable tips about analyzing and reading people like books.
Master the art of reading people and give yourself an edge in this socially driven world.
Here are some of the takeaways from this precious resource:
Reading and analyzing people through their handwriting and photographs.
Reading people through their immediate environment.
Analyzing people through their verbal skills
Established techniques for speed reading people
Deciphering various personality types and communicating with each type
Reading people through their birth order and how birth order impacts our overall personality.
Spotting deception through body language and other clues
And much more
Mind reading isn't about drinking some magic potion and developing telepathic powers overnight. It is a science that people carefully nurtured and mastered to attain success in their daily lives.
The more effective you are at reading people, the greater are your chances of success. So, don't wait any longer. Start reading this book and achieve all your goals
So, are you ready? Take this book NOW
ISBN: 9781801648936
ISBN-10: 9781801648936
Publisher: Cloe Ltd
Publication Date: 02/10/2021 - 12:00am
On Sale: 02/10/2021 - 12:00am
Pages: 202
Language: English
Categories
Neuro-Linguistic Programming (NLP)