Sex Games For Couples: The Essential Guide to Sex and Naughty Games, Role Playing and Toys, Spice Up your Love Making and Do not Become Slave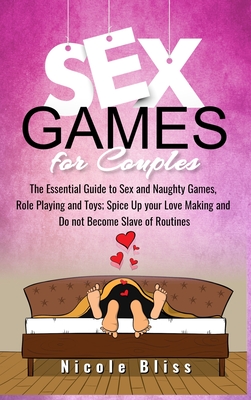 Sex Games For Couples: The Essential Guide to Sex and Naughty Games, Role Playing and Toys, Spice Up your Love Making and Do not Become Slave
★ 55% OFF for Bookstores LAST DAYS ★
Do you want to spice up your sex life with fun and naughty games? Do you want to improve the passion and complicity between you and your partner? If yes then keep reading...
The reality is that whatever type of couple you are, most likely you are one the many that does not do well in communicating their sexual fantasies, desires, and intimate needs. People often accept their flat sex life and they do not even imagine the fun and enjoyment that they could unlock from sex. But then how can you super-power your sex life?
You have come to the right place This book covers all the sex games you need to bring your sex life to the next level. This book contains the most comprehensive collection of sex games for every occasion and mood. In this book you will discover:
The best role playing games
Sex timer games
Sex card games
Mirror games
Sex toys
And many others
In addition you will be able to:
Discover many particulars about the persons you're playing the game with
Laugh in company
Break the ice with someone you just met
Set the right mood
Develop couple complicity
Improve the passion with your beloved one
And much more
Most books on Sex Games focus only on one type of game and do not explain you well the sequence and when should one game be preferred over another one. This book instead will truly make you choose the right game for the right occasion.
Do yourself, your partner and everyone else that you will potentially have sex with a favor, read this book
Buy It NOW And Let Your Customers Spice Up Their Sex Life
ISBN: 9781803397030
ISBN-10: 9781803397030
Publisher: Nicoleblisspub
Publication Date: 06/20/2021 - 12:00am
On Sale: 06/20/2021 - 12:00am
Pages: 80
Language: English
Categories