Daily Motivation: Do This Everyday - Your Life Begins With The First Decision You Make Every Morning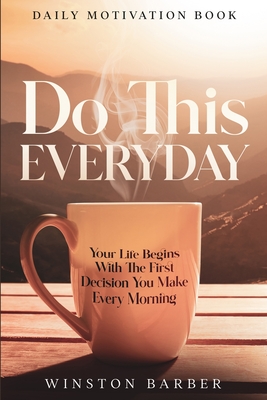 Daily Motivation: Do This Everyday - Your Life Begins With The First Decision You Make Every Morning
Out of Stock In Store
Have you ever had a day or situation when you felt like you are doing nothing in life or sometimes that you are not in the mood to do anything?
This book is the key for you to find yourself by knowing how to start your day right with the motivational approach.
Let's be motivated every day.
In this book "Daily Motivation, Do This Everyday" You Will Learn and Discover...
Believe In Yourself
Being Mentally Strong
Be Motivated by Challenge
Be Inspired to Create
Happy People Stay Grateful
Creating Successful Habits
Consistency
Start Each Day Stress-Free
Stop Hitting That Snooze Button
Get Motivated Even When You Don't Feel Like It
And so many more...


Life begins with the first decision you make every morning. Let's Get You to Your Goals ASAP
Pick up your copy of the book right now by clicking the BUY NOW button at the top of this page
To Your Success
ISBN: 9781804280874
ISBN-10: 9781804280874
Publisher: Readers First Publishing Ltd
Publication Date: 01/31/2023 - 12:00am
On Sale: 11/30/2022 - 12:00am
Pages: 110
Language: English
Categories