Stereoscopy: The Dawn of 3-D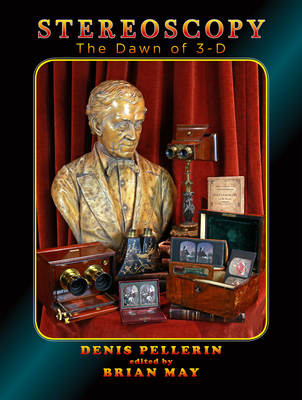 Stereoscopy: The Dawn of 3-D
Out of Stock In Store
This book tells the astonishing and sometimes controversial story of the birth of stereoscopy, the phenomenon we now call 3-D, which entranced Victorian society and is the great-grandparent of today's virtual reality. Peering into a small, dark, magical box (a stereoscope ) an eager new audience in the 1850s was transported into another dimension. The immersive realism of 3-D beckoned to them to experience the far-flung wonders of the world without ever leaving their fireside. It was as if they were actually there amongst the Great Pyramids of Giza, or looking up at the Matterhorn, or standing in the rice fields of China. The realistic stereoscopic portraiture made them feel close to heroes they could never otherwise meet. They could enjoy current events at close quarters, and watch the construction of Brunel's Great Eastern ship on the banks of the Thames. And they could share sentimental scenes and a vast array of creative art in solid realism. Millions of images were printed, published and voraciously consumed by the public in just a few glorious years.
In these pages you will find for the first time the full account of the first 30 years of this extraordinary scientific, artistic and social revolution. You will also experience the pictures it created in full 3-D, just as they were originally intended to be viewed. Brian May's high-quality London Stereoscopic Company OWL viewer, included free in this deluxe package, is all you need to embark upon this visual journey of discovery. It all began in the mind of the Victorian genius Charles Wheatstone, several years before photography was even invented ...
Denis Pellerin is a photo-historian, photographer and author with a passion for stereo photography. He graduated with an MA in Art History from the Sorbonne and has been researching the history of stereo photography for over 40 years. He has written many articles and books on the subject, both in French and English and travels widely giving talks on all aspects of the history of stereo photography. During his 30th year as a secondary schoolteacher, Denis had the good fortune to meet and work with Dr Brian May before being hired by the latter as the curator of his extensive photographic collection. Denis has co-authored three previous books with Brian: Diableries: Stereoscopic Adventures in Hell (2013), The Poor Man's Picture Gallery (2014), and Crinoline: Fashion's Most Magnificent Disaster (2016). He is deeply involved in various activities of The London Stereoscopic Company, and is the Archivist for the recently established Brian May Archive of Stereoscopy. Brian May CBE, PhD, ARCS, FRAS, is a founding member of the rock group Queen, a world-renowned guitarist, songwriter, producer and performer, authority on 3-D stereoscopic photography, a passionate campaigner for animal rights and welfare, and an advocate for political and social change. His PhD thesis A Survey of Radial Velocities in the Zodiacal Dust Cloud was published in 2007, and he is the co-author of eight books on astronomy, space, and historical stereo photography, and the solo author and photographer of the bestselling book on the history of his own band: Queen in 3-D, published in 2017. Brian was Chancellor of Liverpool John Moores University 2008-13, has received three Honorary Doctorates and holds the post of visiting researcher at Imperial College. Asteroid 52665 Brianmay was named in his honor, and in 2015 he was appointed Science Team Collaborator for NASA New Horizons mission, assembling the first ever stereo images of Pluto. Brian is currently engaged in many other collaborations with NASA, ESA and JAXA, producing stereo images of solar system objects.
ISBN: 9781838164508
ISBN-10: 9781838164508
Publisher: London Stereoscopic Company
Publication Date: 11/30/2021 - 12:00am
On Sale: 11/10/2021 - 12:00am
Pages: 216
Language: English
Categories