Pandemic Capitalism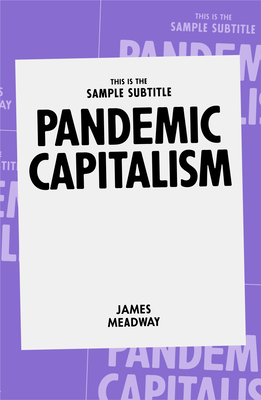 A Radical Programme for The Left After the Pandemic

The social, economic and political consequences of coronavirus are profound. But the crisis is neither solely a medical emergency, nor an economic crisis of immense proportions, but a product of capitalism as it is presently structured. In particular, it has struck directly at the labour market and forced the state to intervene on a level never seen before, decimating the received wisdom of the past decades. How can we return to business as normal? And what demands should we make of the future in its place?

Pandemic Capitalism is a searing analysis of what has happened and sets out a programme to rescue the democratic and liberatory traditions of the left out of the debris. This begins with placing human values at the centre of the new economic consensus. It includes Universal Basic Services as well as a universal basic income in order to offer security to workers and families. A wide-ranging commitment to de-carbonisation and environmental protections. To transform the systems of ownership to benefit all. And an end to GDP and the doctrine of growth as the only measure within the economy. Such a revolution will redraft the coalition between politics and economics and the re-emergence of labour as a political agent.
James Meadway is a former political advisor to Shadow Chancellor John McDonnell, and former chief economist at the New Economics Foundation. He has taught in economics at SOAS, Cambridge, Sussex and City Universities, and has published widely on economic policy and theory in the New Statesman, Guardian, Jacobin, Tribune, and Novara.