An Enemy Called Average (Updated and Expanded)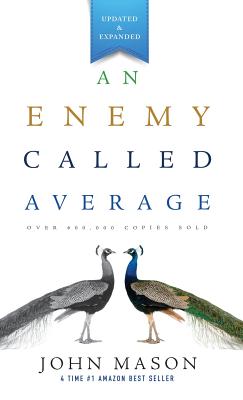 An Enemy Called Average (Updated and Expanded)
Out of Stock In Store
This is the new, updated and expanded version of the national best-selling book, An Enemy Called Average originally published in 1990. Stand Out - Don't Blend In Within every person is a desire to be fully who they were created to be. No one really wants to "just get by". Regardless of where you are in life, how much you have or have not accomplished, God is not finished with you yet Divided into 52 "nuggets" of truth, An Enemy Called Average is a source of godly wisdom, scriptural motivation, and practical principles. The words of this book will stir up the gifts and dreams within you. Instead of digging through ten pages to find one good idea, you'll find ten good ideas on every page. Think about it... - Your problem is your promotion - Worry is interest paid in advance on something you may never own - The faith to move mountains always carries a pick - People are born originals, but most die copies - Ideas go away, but direction stays - Stop every day and look at the size of God "John Mason wrote a very good book that I recommend you read: An Enemy Called Average. I learned from this book: 'Know your limits, then ignore them. The most unprofitable item ever manufactured is an excuse. Don't sit back and take what comes. Go after what you want' " (excerpt from her book, A Leader in the Making). - Joyce Meyer, Minister and Best-selling Author "The originality and practicality of John Mason's words and wisdom are a proven commodity which makes every new book of his a celebrated event...Read and prosper " - Jack Hayford, Founding Pastor of Church on the Way and Author Give An Enemy Called Average one year, just one nugget a week, and your life will never be the same. About the Author: John Mason is an internationally recognized best-selling author, speaker, minister and author coach. His books have sold over 1.5 million copies and have been translated into thirty-five languages. Five of his books have reached #1 on an Amazon best-seller's list.
ISBN: 9781890900984
ISBN-10: 9781890900984
Publisher: Insight International Inc.
Publication Date: 05/22/2015 - 12:00am
On Sale: 05/22/2015 - 12:00am
Pages: 136
Language: English
Categories
Christian Living - Inspirational