Young Captain on a Broken Boat: Childhood memories of a World War II Jewish refugee turned away from British Palestine to an island prison in Mauritiu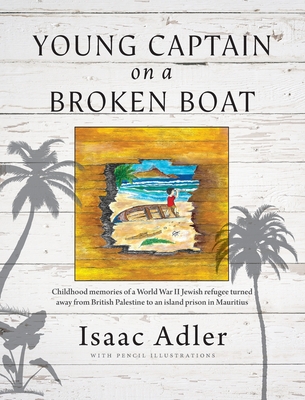 Young Captain on a Broken Boat: Childhood memories of a World War II Jewish refugee turned away from British Palestine to an island prison in Mauritiu
Years ago, a young Jewish boy stood on a broken boat, half buried in the sand, holding a piece of bamboo he had made into a toy telescope. The boy was scanning the horizon, looking for the large ship that would take him and his parents back to Eretz-Israel. In late 1940, the boy, his parents and 1580 other Jewish refugees were deported to the remote island of Mauritius, located in the heart of the Indian Ocean after they were denied entry to then British controlled Palestine.
I was that boy...
Includes 22 pencil drawings by the author. They vividly illustrate Isaac's childhood memories during his family's imprisonment as Jewish refugees in Mauritius.
Young Captain on a Broken Boat is an illustrated book expressing the memories of Isaac, as a baby born in Bratislava while escaping the Nazis to a British prison on the Island of Mauritius where a young boy dreams of being rescued - as he plays on a broken boat half buried in the sand. Written with the simplicity of a child, accompanied by sketches showing the intensity of his memories, Isaac Adler shares with readers his life in a prison as he waits to be set free, to finally sail home to Eretz Israel.
The Young Captain on a Broken Boat is a story to be shared.
ISBN: 9781911211747
ISBN-10: 9781911211747
Publisher: Zaccmedia
Publication Date: 06/01/2021 - 12:00am
On Sale: 06/01/2021 - 12:00am
Pages: 62
Language: English
Categories
Middle East - Israel & Palestine