Build It! Make It! D.I.Y. Dinosaurs: Makerspace Models. Over 25 Awesome Walking, Flying, Moving Dinosaur Models to Build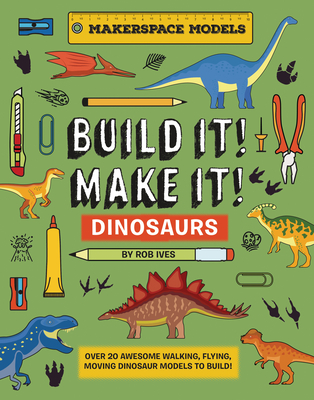 Build It! Make It! D.I.Y. Dinosaurs: Makerspace Models. Over 25 Awesome Walking, Flying, Moving Dinosaur Models to Build
Pre-Order (Not Yet Published)
The third book in our best-selling Build it Make it series is the, much awaited Dinosaurs Rob Ives is a genius at engineering models that move, entertain and give hours and hours of fun for everyone. There are lots of dinosaur fans out there that will think this book is the best gift ever With all of their favorite scary dinosaurs to make and some weird and wonderful ones too, they won't know which one to do first Get ready to build a whole herd and...
Make the king of the dinosaurs, T-rex, and watch him roar
Make a pop-up Triceratops
Create your own walking Spinosaurus
Use QR codes to download templates to make each dinosaur, and to see videos of the finished beasts in action Then all you need are some simple items and the step-by-step instructions and photographs will be easy to follow. Cool bite-size dino facts accompany each model, that will always go down well with the fans. So, encourage the kids to switch off the tech and become super engineers. Get ready to have lots of Build it Make it great engineering fun.
Rob Ives is a UK-based designer and paper engineer. He began making cardboard models as a maths and science teacher, then was asked to create two books of models. His published titles include Paper Models that Rock! and Paper Automata. He is also the author of Build It! Make It! Super Engineer and Build It! Make It! Mini Battle Machines, recent titles from Beetle Books. He specializes in paper animations and projects, and often visits schools to talk about design technology and demonstrate his models.
ISBN: 9781914087653
ISBN-10: 9781914087653
Publisher: Beetle Books
Publication Date: 01/03/2023 - 12:00am
On Sale: 10/26/2022 - 12:00am
Pages: 96
Language: English
Categories