Nurturing a Healthy Mind: Doing what matters most for your child's developing brain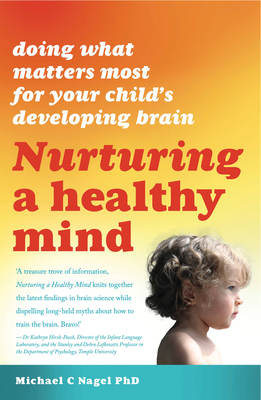 Nurturing a Healthy Mind: Doing what matters most for your child's developing brain
Out of Stock In Store
The 90's was declared the "Decade of the Brain" and a flurry of research on brain development soon followed. The result: two decades on we now know more about the brain than we did since the first recorded writings 6000 years ago.
Advances in technology and science have taught us a great deal and Nurturing a Healthy Mind supports the growing consensus that research on brain development is relevant to parenting. At the beginning of the twenty-first century, parents and teachers are seeing the benefits of this research, with child rearing and education being shaped by new understandings of the human brain.
It is becoming wider knowledge that the interactions between our genetic makeup, early experiences and environmental influences shape the architecture of the developing brain. And as such our understanding of the importance of the early years of life have, thankfully, received much greater attention and scrutiny. We are witnessing a tsunami of research, in conjunction with well-informed individuals, looking to ensure that all children receive the attention they need in their earliest days of life.
Nurturing a Healthy Mind, with its easy-to-understand format, gives parents and early caregivers a great opportunity to tap into this research and provide the best environment possible for healthy child development.
Michael C. Nagel PhD is an Associate Professor in the School of Science and Education at the University of the Sunshine Coast, where he teaches and researches in the areas of human development, educational psychology, behaviour and learning. Dr Nagel has written a number of books and articles related to neurological development in children and has delivered over 200 workshops and seminars for parents and teachers nationally and internationally. Dr Nagel is also a member of the prestigious International Neuropsychological Society and a feature writer for the Child series of magazines, which offers parenting advice to more than one million Australian readers.