Thanks for the Feedback, I Think: My Story about Accepting Criticism and Compliments the Right Way!volume 6 (Best Me I Can Be)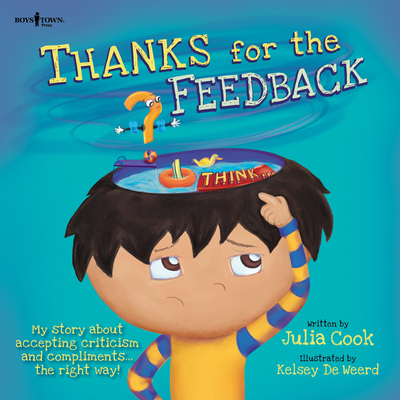 Thanks for the Feedback, I Think: My Story about Accepting Criticism and Compliments the Right Way!volume 6 (Best Me I Can Be)
Out of Stock In Store (Available to Order)
Do you know a young person who tends to argue or give excuses when you are trying to correct behavior? Or a student who misinterprets praise and compliments?
Teach them the social skills "how to accept feedback" and "how to give and receive compliments" using a kid-friendly story with a lesson that enriches social emotional learning. This entertaining story follows RJ as he goes about his day doing the things he enjoys, such as blowing bubbles, playing soccer, and hanging out with friends. But when a couple of friends give him compliments, he just isn't sure how to respond As RJ continues through the day, he hears from his teacher and parents that while there are many things he's doing very well, there are some things he needs to work on. His first reaction is to argue and make excuses. Throughout this story, RJ learns what it means to receive positive and negative feedback, and how to respond appropriately. Parents and teachers will love taking kids on RJ's journey as he discovers the many forms of feedback, and he learns to accept and grow from criticism and compliments at home, in school and with friends. This picture book book is the sixth in Julia Cook's
BEST ME I Can Be
series which teaches children in grades K through 6 social skills that can make home life happier and school more successful. Tips for parents and educators to effectively teach how to give and receive compliments and how to accept feedback are included at the end of the picture book.
The series also includes:
The WORST Day of My Life EVER
I Just Don't Like the Sound of NO
SORRY, I Forgot to Ask
TEAMWORK Isn't My Thing, and I Don't Like to SHARE
I Just Want to Do It MY WAY
I Can't Believe You SAID That
Julia Cook, a former school counselor and teacher, has written many books on behavior and health for children. She has received the Association for Educational Publishers Distinguished Achievement Award, and her books have been honored by the National Parenting Center and Mom's Choice Awards. Her storybooks show children how to make a positive difference in their lives by teaching them lifelong problem-solving skills. Her Best Me I Can Be series of children's books teaches essential social skills, such as Accepting Feedback from Others. Julia's ultimate goal is to make a positive difference in the lives of children, parents and educators by teaching lifelong problem-solving skills to kids.
ISBN: 9781934490495
ISBN-10: 9781934490495
Publisher: Boys Town Press
Publication Date: 09/01/2013 - 12:00am
On Sale: 09/01/2013 - 12:00am
Pages: 32
Language: English
Categories
Social Themes - Manners & Etiquette