Dear Thief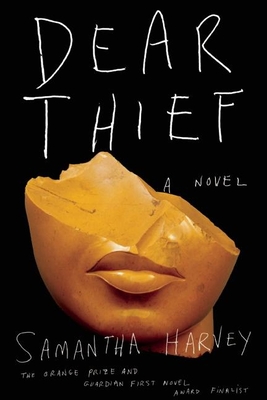 Dear Thief
Unavailable
This item may not be available to order. Please call 617-566-6660 for more information.
You were going to work your way into my marriage and you were going to call its new three-way shape holy, writes the unnamed narrator of Dear Thief.
The thief is Nina, or Butterfly, who disappeared eighteen years earlier and who is being summoned by this letter, this bomb, these recollections, revisions, accusations, and confessions. "Sometimes I imagine, out of sheer playfulness, that I am writing this as a kind of defence for having murdered and buried you under the patio."
Dear Thief
is a letter to an old friend, a song, a jewel, and a continuously surprising triangular love story. Samantha Harvey writes with a dazzling blend of fury and beauty about the need for human connection and the brutal vulnerability that need exposes. "While I write my spare hand might be doing anything for all you know; it might be driving a pin into your voodoo stomach." Here is a rare novel that traverses the human heart in original and indelible ways.
Born in Kent, England, in 1975, SAMANTHA HARVEY, has an MA in philosophy and an MA, with distinction, from the Bath Spa Creative Writing course in 2005. In addition to writing, she has traveled extensively and taught in Japan and lived in Ireland and New Zealand. She has written two other novels, "The Wilderness" which was a Man Booker Prize nominee and Orange Prize finalist, and "All Is Song." She recently cofounded an environmental charity and lives in Bath, England.
ISBN: 9781937894467
ISBN-10: 9781937894467
Publisher: Atavist Books
Publication Date: 10/28/2014 - 12:00am
On Sale: 10/28/2014 - 12:00am
Pages: 260
Language: English
Categories