Crossing the Line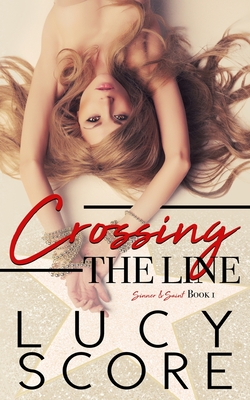 Crossing the Line
Likely On Our Shelves
From #1 Amazon bestselling writer of Pretend You're Mine, Lucy Score delivers once again with the two-book Sinner & Saint story. Xavier Saint's by-the-book rules are thrown out the window when he finds himself crossing lines to keep his beautiful client in line. His business is protecting clients-often from themselves-and as co-founder of one of the top private security firms in the country, he's seen it all. But when he's contracted to protect Waverly Sinner, the stunning and rebellious actress, he finds that some rules are made to be broken. Waverly Sinner is a second-generation Hollywood goddess living in the gilded cage of expectations. She's reluctantly playing her role while counting down the days to her escape from the life she never chose. But meeting sexy, rule-bound Xavier Saint slams the door shut on her own private prison. She doesn't trust him and will do anything to shake him loose.Sparks fly and ignite when Waverly and Xavier's agendas clash. But when a dangerous stalker threatens her life, can Waverly trust Xavier to stand between her and a potential killer? Or will their growing feelings for each other endanger them both?Author's Note: This is the first novel in a two-book series. The stories take place five years apart so my astute readers can guess that this one doesn't have the happily ever after we all love. But I promise, I more than make up for it with the conclusion of Xavier and Waverly's story in Breaking the Rules.
Lucy Score is the author of the Wall Street Journal and #1 Amazon bestseller Pretend You're Mine. She grew up in a literary family who insisted that the dinner table was for reading and earned a degree in journalism. She writes full-time from the Pennsylvania home she and Mr. Lucy share with their obnoxious cat, Cleo. When not spending hours crafting heartbreaker heroes and kick-ass heroines, Lucy can be found on the couch, in the kitchen, or at the gym. She hopes to someday write from a sailboat, or oceanfront condo, or tropical island with reliable WIFI.
ISBN: 9781945631030
ISBN-10: 9781945631030
Publisher: That's What She Said Publishing, Inc.
Publication Date: 11/26/2016 - 12:00am
On Sale: 11/26/2016 - 12:00am
Pages: 410
Language: English
Categories