Merch Table Blues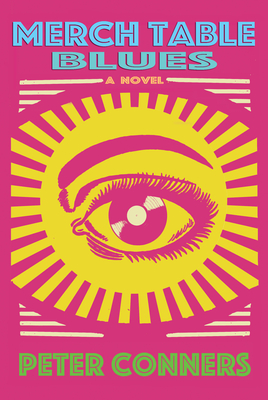 Merch Table Blues
Likely On Our Shelves
The debut novel from Peter Conners, bestselling author of Grateful Dead histories
When Virgil Frey gets an unexpected phone call from his childhood best buddy, guitarist Richard Payne Knight, urging him to join his band Laverna as a roadie running the merch table on a small club tour through New York state, he decides to go for it. Virgil's current situation attending a graduate school creative writing program is falling flat, and he's hoping this new adventure will spark some kind of creative inspiration.
While on tour, Virgil discovers Laverna's growing popularity involves a cult-like following that just might be an actual cult, mysterious hook-ups and odd disappearances, and band members developing questionable habits. Can old friendships survive tour chaos? Will the band get signed? Does Virgil find the inspiring experiences he seeks? Merch Table Blues is an often humorous rock band tour mystery exploring vital ideas about loyalty and friendship that will keep readers on edge till the last encore is played.
Peter Conners has documented music and countercultural communities in Growing Up Dead: The Hallucinated Confessions of a Teenage Deadhead (Da Capo); JAMerica: The History of the Jam Band and Festival Scene (Da Capo); Cornell '77: The Music, The Myth, and the Magnificence of the Grateful Dead's Concert at Barton Hall (Cornell University Press); and White Hand Society: The Psychedelic Partnership of Timothy Leary & Allen Ginsberg (City Lights). He is also the author of three books of poetry. He lives in Rochester, NY where he works as Publisher and Executive Director of the award-winning literary press BOA Editions.
ISBN: 9781945665318
ISBN-10: 9781945665318
Publisher: Manic D Press
Publication Date: 05/03/2022 - 12:00am
On Sale: 03/22/2022 - 12:00am
Pages: 260
Language: English
Categories