Story of the World, Vol. 4 Activity Book, Revised Edition: The Modern Age: From Victoria's Empire to the End of the USSR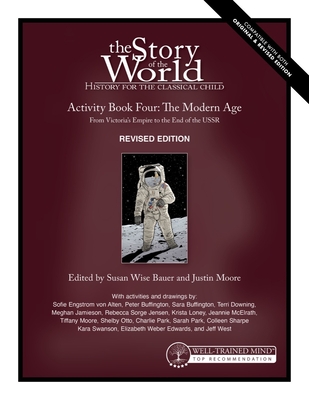 Story of the World, Vol. 4 Activity Book, Revised Edition: The Modern Age: From Victoria's Empire to the End of the USSR
Out of Stock In Store
Spend an entire year investigating the fascinating story of the modern world, from the American Civil War through the end of the twentieth century--from Europe and the Middle East through India, China, the Arabian Peninsula, Australia, and both North and South America!
Designed for parents and elementary/middle grade students (grades 4-8) to share together,
The Story of the World, Volume 4: The Modern Age Revised Edition
 is widely used in charter and private schools, as well as co-ops around the world. It builds historical literacy, improves reading and comprehension skills in both fiction and nonfiction, and increases vocabulary--all in an enjoyable and entertaining story-like format.
The
Volume 4 Revised Edition Activity Book
offers a whole variety of hands-on projects to complement each chapter in the paperback text--map activities, coloring pages, games, cooking experiments, crafts, board games, science experiments, puzzles, and more! Extensive booklists, both fiction and nonfiction, accompany each set of projects and give students the opportunity to read more about the fascinating people and events in each of the 42 chapters. This revised edition includes 45 brand-new coloring pages, updated & expanded literature lists and beautiful new gameboards and diagrams.
Susan Wise Bauer is a writer, educator, and historian. Her previous books include the Writing With Ease, Writing With Skill, and Story of the World series from Well-Trained Mind Press, as well as The Well-Trained Mind: A Guide to Classical Education at Home, The Well-Educated Mind: A Guide to the Classical Education You Never Had, Rethinking School, The Story of Western Science: From the Writings of Aristotle to the Big Bang Theory, and the History of the World series, all from W. W. W. Norton. She has a Ph.D. in American Studies from the College of William & Mary in Virginia, as well as an M.A. in seventeenth-century literature and a Master of Divinity in Ancient Near Eastern Languages and Literature. For fifteen years, she taught literature and composition at the College of William and Mary.

Justin Moore has taught English and history to elementary and high school students, and currently works as an editor and researcher at Well-Trained Mind Press and its Olive Branch Books. He has degrees in history and theology from the College of William & Mary and Westminster Theological Seminary. He and his wife Melissa live in Charles City, Virginia with their dog, Pippin.

Jeff West is an established illustrator and his variety and bulk of work is expansive, ranging from traditional art to art for TV and movies. He recently earned himself an Emmy nomination and has worked on blockbuster shows and films. He resides in Arizona.