The Positive Shift: Mastering Mindset to Improve Happiness, Health, and Longevity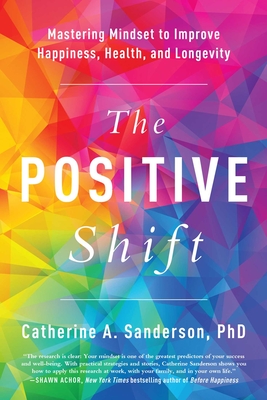 The Positive Shift: Mastering Mindset to Improve Happiness, Health, and Longevity
Backordered
It's the reason why spending time on Facebook makes us feel sad and lonely. Why expensive name-brand medicines provide better pain relief than the generic stuff, even if they share the same ingredients. And why a hospital room with a good view speeds up recovery from surgery. 

The truth is, the way we think about ourselves and the world around us dramatically impacts our happiness, health, how fast or slow we age, and even how long we live. In fact, people with a positive mindset about aging live on average 7.5 years longer than those without. 

That might sound alarming to those of us who struggle to see the bright side, but the good news is we can make surprisingly simple changes or small shifts to how we think, feel, and act that will really pay off. 

In The Positive Shift: Mastering Mindset to Improve Happiness, Health, and Longevity, Dr. Catherine Sanderson breaks down the science of thought and shows how our mindset—or thought pattern—exerts a substantial influence on our psychological and physical health. Most important, this book demonstrates how, no matter what our natural tendency, with practice we can make minor tweaks in our mindset that will improve the quality—and longevity—of our life. 

Combining cutting-edge research from the fields of psychology, neuroscience, and medicine, as well as vivid real-world examples of the power of mindset, The Positive Shift gives readers practical and easy strategies for changing maladaptive thought patterns and behaviors so they can live longer, happier lives. These behaviors include: 

   • Appreciating nature, with actions as simple as eating lunch outside
   • Giving to others, like volunteering
   • Spending money on experiences, not possessions 


Living your best life is truly mind over matter. Believe in yourself and rethink your way to a happier reality.
Catherine A. Sanderson is the Manwell Family Professor in Life Sciences (Psychology) at Amherst College. She received a bachelor's degree in psychology, with a specialization in Health and Development, from Stanford University, and received both masters and doctoral degrees in psychology from Princeton University. Professor Sanderson's research examines how personality and social variables influence health-related behaviors such as safer sex and disordered eating, the development of persuasive messages and interventions to prevent unhealthy behavior, and the predictors of relationship satisfaction. This research has received grant funding from the National Science Foundation and the National Institute of Health.

Professor Sanderson has published more than 25 journal articles and book chapters in addition to five college textbooks, a high school health textbook, and a popular press book on parenting.  In 2012, she was named one of the country's top 300 professors by the Princeton Review. Professor Sanderson speaks regularly to public and corporate audiences on such topics as the science of happiness, emotional intelligence, the mind-body connection, and the psychology of good and evil.
ISBN: 9781946885449
ISBN-10: 9781946885449
Publisher: BenBella Books
Publication Date: 01/29/2019 - 12:00am
On Sale: 01/29/2019 - 12:00am
Pages: 320
Language: English
Categories
Self-help / Personal Growth / Happiness