Sociometrics: Embodied, Experiential Processes for Healing Trauma and Addiction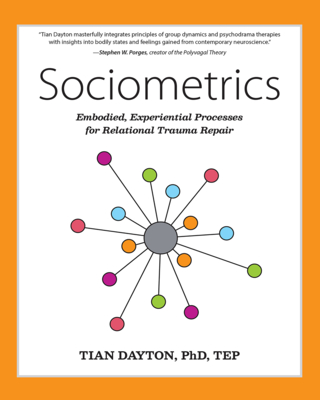 Sociometrics: Embodied, Experiential Processes for Healing Trauma and Addiction
Pre-Order (Not Yet Published)
Trauma represents a loss of connection with the self and can affect our ability to engage in comfortable long-term intimacy. Unresolved trauma often is the reason why people self-medicate. Relational trauma happens a little bit at a time. Feeling unseen, misunderstood, neglected, or rejected by the people we want most to be loved by is, over time, a traumatizing experience. Our need to be seen is core to valuing ourselves as vital people, important to those close to us and with the potential to find a meaningful place in the world.
Sociometrics offers many small, incremental moments of healing that cumulatively help to peel back the layers of the onion, revealing ever deepening and widening aspects of both the self and the self in relation to others. Sociometrics is a therapeutic role-playing practice built upon the foundation of psychodrama and sociometry, the pioneering group-therapy concepts developed by fin-de-si cle Viennese psychiatrist Jacob Levy Moreno. Psychodrama and sociometry have been organically embraced in the addiction field as a method of treating this kind of relational trauma. Role-play in a therapeutic environment allows a full range of mind-body emotions and physical motions to be part of the treatment process. Words, rather than being used in some hapless attempt to describe an experience one can barely remember, can come bursting forward into the here and now toward the right person at the right place at the right time.
Dr. Tian Dayton is a senior fellow at The Meadows and author of fifteen books. She is a Huffington Post blogger and creator of innerlook.com. She has a Masters in Educational Psychology and a PhD in clinical psychology and is a board-certified trainer in psychodrama and a licensed Creative Arts Therapist. She is also a certified Montessori teacher. Dr. Dayton is the director of The New York Psychodrama Training Institute where she runs training groups in psychodrama, sociometry, and experiential group therapy. She is a nationally renowned speaker, expert, and consultant in psychodrama, trauma, and addiction.
ISBN: 9781949481648
ISBN-10: 9781949481648
Publisher: Central Recovery Press
Publication Date: 03/15/2022 - 12:00am
On Sale: 03/15/2022 - 12:00am
Pages: 300
Language: English
Categories