Dropkick Murphy: A Legendary Life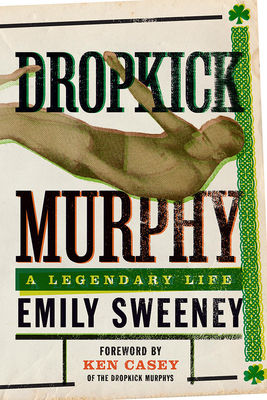 Dropkick Murphy: A Legendary Life
Likely On Our Shelves
"Sweeney's forensic research shines through an entertaining book that is a
thoroughly delicious slice of Irish-Americana."-Irish Times "What makes the story of Murphy's professional wrestling career so fascinating is the way Sweeney sets the scene for many of his matches...From the booming voice of "Whitey" Kaunfer welcoming cold patrons to the Old Mechanics Building to the sweaty, bloody, and crowded confines of the Boston Arena dressing room, Sweeney does an exceptional job... If you are considering this book for its wrestling content, you will certainly enjoy what you find."--Slam WrestlingNewspapers
called him the "the man with the cast-iron toes," "the best drop-kicker in
wrestling," and "one of the mat game's biggest box office attractions." But Dr.
John "Dropkick" Murphy's legacy extends far beyond the wrestling ring. Decades
before the Betty Ford Center became a household name -- and long before the band
the Dropkick Murphys named themselves in his honor -- the phrase going to
Dropkick's meant a person struggling with addiction needed help and would soon
get some.
This book chronicles for the first time the unbelievable life of Dropkick Murphy, a professional
wrestler who put himself through medical school during the Great Depression and
then opened Bellows Farm, a one-of-a-kind institution that served as both a facility
where elite athletes could train as well as a secluded place where
down-on-their-luck alcoholics could go to sober up discreetly. The
celebrities who frequented Dropkick Murphy's farm were many, and numerous professional
athletes would go there to focus on their training and work out in his
state-of-the-art gymnasium. As a result, Bellows Farm featured an unrivaled and
revolving cast of colorful characters who brought it to life. Drawing on years
of research and interviews, author Emily Sweeney goes behind the scenes to
reveal the untold story of Murphy's life, his farm, and the legendary events
that unfolded there.
Emily Sweeney is a staff reporter at The Boston Globe and author of the books Boston Organized Crime and Gangland Boston. A proud native of Dorchester, she also appears in Bloody Boston, a two-part documentary special on the Reelz channel; Stranger Than Fiction: The True Story of Whitey Bulger, Southie, and The Departed, a bonus feature on the DVD of the Oscar-winning movie The Departed; and the forthcoming Netflix series How to Become a Mob Boss.