Little Genius Dinosaurs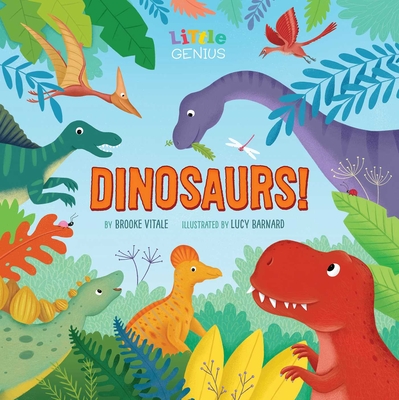 Little Genius Dinosaurs
Out of Stock In Store (Available to Order)
Little Genius . . . where curious kids can learn and laugh while being captivated by the world around them.

Spiky tail and plated back,
Stegosaurus is no one's snack.
Moving slowly on its feet,
this herbivore likes plants to eat.

A child's fascination with dinosaurs is unparalleled, and who doesn't know a small kid who can't say her own last name, but will correct you if you mispronounce diplodocus? Little Genius Dinosaurs is the book for those kids. Featuring enjoyable, rhythmic text; fun facts; and a new dinosaur on every spread, this is the perfect first book for the curious archaeologist in every child.
BROOKE VITALE is a children's book author and editor. She has written dozens of books, including The Muppet Christmas Carol: The Illustrated Holiday Classic, The Magic Is in You, Disney Who's Who, Olaf's Journey, and Happy Birthday, Mickey. Brooke spent more than fifteen years as an editor at prominent publishing companies, including Penguin Books for Young Readers and Disney Publishing. She now does freelance editing and writing to allow time to spend with her husband and two young sons Greenwich, CT.