Online Discovery Moon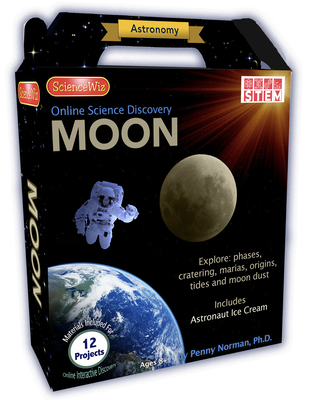 Go to the Moon with ScienceWiz(R) Book and Online Discovery Kit. From phases, eclipses, craters, origins, tidal locking, moon dust, moon rocks, to the discovery of water-ice -- prepare for mankind's return to the Moon with this 52 pages, fully illustrated book. The giant lava tubes discovered just below the surface may prove to where humans form shielded colonies -- perhaps in your lifetime.
The Online Discovery version includes a flip-book that guides children through each project visually and includes embedded animations, videos, games, and interactive simulations. It integrates the best of online interactive play with hands-on projects.
PROJECTS INCLUDE:

Modeling the phases of the Moon
Acting out tidal locking
Exploring the mysteries of its far side, not visible from the Earth
Making your own craters and learning what they teach us about the Moon's history
Making a model of the layers of the Moon with soft clay
Let it harden and cut it open to see the inside structures from core to mantle
Modeling a solar and lunar eclipse. Replicate the happy coincidence, unique to our planet, that gives Earthlings a total eclipse of the Sun

Observe the moon directly and viewing the cratered surface with binoculars (included)

Holding and learning about the most common type of rock found on the surface of the Moon

Exploring tides, their patterns and relationship to phases of the Moon
Testing your crater counting skills
Of course, eat
astronaut ice-cream
. Includes a handle box for easy storage and transport. Includes a handle box for convenient storage, binoculars for viewing the Moon more closely, modeling material to build a model of the layers of the Moon,
astronaut ice-cream
, shapes to weight and drop to model variations in crater formation, and a rock of basalt