Resilient Kitchens: American Immigrant Cooking in a Time of Crisis, Essays and Recipes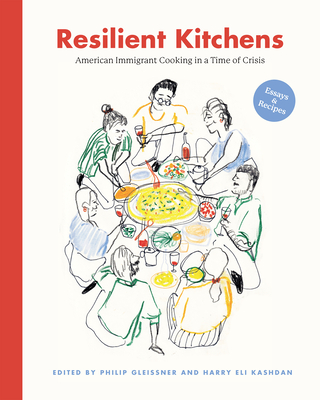 Resilient Kitchens: American Immigrant Cooking in a Time of Crisis, Essays and Recipes
Editor Philip Gleissner ,
Harry Eli Kashdan ,
Contributions by Reem Kassis ,
Stephanie Jolly ,
Krishnendu Ray ,
Tien Nguyen ,
Bonnie Frumkin Morales ,
Mayukh Sen ,
Geetika Agrawal ,
Fernay McPherson ,
Antonio Tahhan ,
Sangeeta Lakhani ,
Keenan Dava ,
Tim Flores ,
Angelo Dolojan ,
Guillermina Gina Núñez-Mchiri ,
Harry Eli Kashdan ,
Philip Gleissner
Pre-Order (Not Yet Published)
Immigrants have left their mark on the great melting pot of American cuisine, and they have continued working hard to keep America's kitchens running, even during times of crisis like the COVID-19 pandemic. For some immigrant cooks, the pandemic brought home the lack of protection for essential workers in the American food system. For others, cooking was a way of reconnecting with homelands they could not visit during periods of lockdown. 
 Resilient Kitchens: American Immigrant Cooking in a Time of Crisis is a stimulating collection of essays about the lives of immigrants in the United States before and during the COVID-19 pandemic, told through the lens of food. It includes a vibrant mix of perspectives from professional food writers, restaurateurs, scholars, and activists, whose stories range from emotional reflections on hardship, loss, and resilience to journalistic investigations of racism in the American food system. Each contribution is accompanied by a recipe of special importance to the author, giving readers a taste of cuisines from around the world. Every essay is accompanied by gorgeous food photography, the authors' snapshots of pandemic life, and hand-drawn illustrations by Filipino American artist Angelo Dolojan. 
PHILIP GLEISSNER is an assistant professor of Slavic and East European languages and cultures at The Ohio State University. A native of Germany, he came to the United States for graduate studies at Princeton. He researches the Soviet literary press, socialist cultural networks, and queer community building in contemporary Eastern Europe.

HARRY ELI KASHDAN is a scholar of food and migration based in Washington, DC. A Ph.D. in comparative literature who has published research on cookbooks and migration in the Mediterranean, he has held fellowships at Harvard University, The Ohio State University, and the University of Pennsylvania.