The Book of Animal Secrets: Nature's Lessons for a Long and Happy Life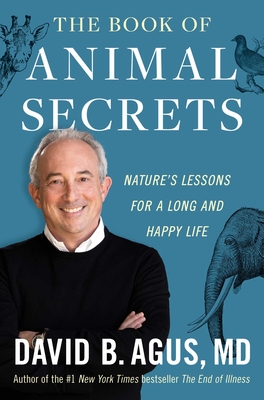 The Book of Animal Secrets: Nature's Lessons for a Long and Happy Life
Pre-Order (Not Yet Published)
From the #1 New York Times bestselling author of The End of Illness comes an ingenious guide to what our fellow animals can teach us about living longer, healthier, happier lives.

Mother nature has a lot to teach us, if only we open our eyes. Pigeons and dolphins offer creative strategies for preserving our memories and warding off dementia, while squirrels and pigs harbor secrets for managing chronic pain. Rhinoceroses demonstrate the subtle power of our environments—and how to exercise better—while chimps have surprising parenting tips, not to mention great diet advice. Studying elephants has unlocked insights into preventing cancer, and we can look to giraffes for solutions to cardiovascular issues. Ants reveal the unusual benefits of collaboration and altruism, dogs are masterful mentors in living the good life, prairie voles hold clues to connection, and hitchhikers from our evolutionary past may bring us to the edge of immortality.

In The Book of Animal Secrets, visionary physician and biomedical researcher David B. Agus, MD, explores all these ways—and more—that we can harness the wonders of the animal kingdom in our own, very human lives. Filled with lively storytelling and astonishing practical takeaways, this revelatory guide will have you rethinking what's possible for your health and wellbeing—now and for years to come.
David B. Agus, MD, is the author of the international sensations The End of Illness, A Short Guide to a Long Life, and The Lucky Years. A professor of medicine and engineering at the University of Southern California, he is the founding Director and CEO of the Ellison Institute for Transformative Medicine and a contributor to CBS News. He lives in Santa Monica, California.