Essential Meditations with Eckhart Tolle: Guided Sessions and Practical Teachings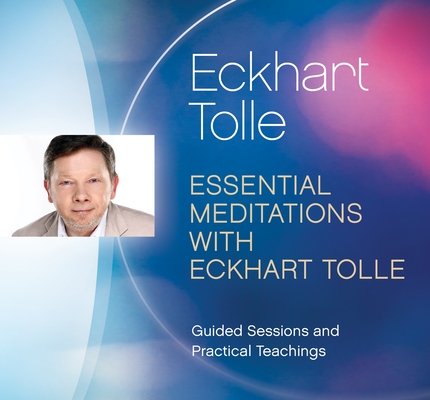 Essential Meditations with Eckhart Tolle: Guided Sessions and Practical Teachings
Unavailable
Discover the timeless Presence beyond thought in this collection of meditations from Eckhart Tolle

We tend to think of meditation as a formal practice we block time out for each day. But what if every moment of your life was your meditation?

For Eckhart Tolle, meditation shouldn't be approached as a chore or a means to an end. Rather, meditation is something that you live. "The aim of meditation," states Eckhart, "is that it eventually becomes your normal state of consciousness." Essential Meditations with Eckhart Tolle points the way toward this quiet, constant state of Presence—where practice gives way to the realization of your innermost identity.

This retrospective collection gathers rare talks and classic meditations from Eckhart's extensive teachings, many of which have only been available to retreat participants. Over the course of more than a dozen sessions, Eckhart leads you in meditations for breaking attachment to the stream of thought, easing suffering, discerning your "formless" self, and embodying Presence in every single moment.

Here Eckhart will guide you in discovering:
· The power of asking "Who am I?" as an inquiry practice
· Why stillness is much more than quieting the unruly mind
· The true source of all creativity
· The evocative poetry of Steve Taylor
· Why awakening is a process of unlearning your assumptions and biases
· The infinite space hidden between your thoughts
· Recognizing yourself as embodied Presence rather than an accumulation of narratives
· Understanding the movement of chi or prana in the body
· The joyous simplicity of present-moment mindfulness
· How to rise above the thinking mind rather than sinking below it

In Essential Meditations with Eckhart Tolle, you will find not only teachings about transcending the thought-based self, but a direct experience of stillness itself.
Spiritual teacher and author Eckhart Tolle was born in Germany and educated at the Universities of London and Cambridge. At the age of twenty-nine, a profound inner transformation radically changed the course of his life. The next few years were devoted to understanding, integrating, and deepening that transformation, which marked the beginning of an intense inward journey. Later, he began to work in London with individuals and small groups as a counselor and spiritual teacher. Since 1995 he has lived in Vancouver, Canada.

Eckhart Tolle is the author of the #1 New York Times bestseller The Power of Now (translated into 33 languages) and the highly acclaimed follow-up A New Earth, which are widely regarded as two of the most influential spiritual books of our time.

Eckhart's profound yet simple teachings have already helped countless people throughout the world find inner peace and greater fulfillment in their lives. At the core of the teachings lies the transformation of consciousness, a spiritual awakening that he sees as the next step in human evolution. An essential aspect of this awakening includes transcending our ego-based state of consciousness. This is a prerequisite not only for personal happiness but also for the ending of violent conflict endemic on our planet.

Eckhart is a sought-after public speaker and teaches and travels extensively throughout the world. Many of his talks, intensives, and retreats are published on CD and DVD. Most of the teachings are given in English, but occasionally Eckhart also gives talks in German and Spanish. In addition to The Power of Now and A New Earth, Eckhart has written a book designed for meditative reading entitled Stillness Speaks. A book consisting of selections from The Power of Now entitled Practicing the Power of Now is also available. For more information on Eckhart Tolle, please visit eckharttolle.com.