Mama's Gotta Grow!: Inspiring Conscious Growth in Motherhood; Adapting to Change, Shifting Lifestyles, Pandemic Pivoting, and Embracing New Normals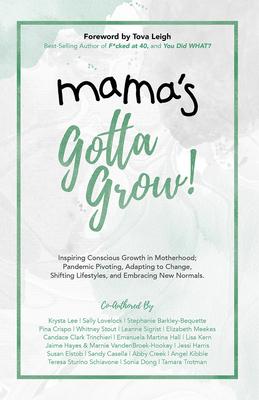 Mama's Gotta Grow!: Inspiring Conscious Growth in Motherhood; Adapting to Change, Shifting Lifestyles, Pandemic Pivoting, and Embracing New Normals
By Whitney Stout ,
Pina Crispo ,
Krysta Lee ,
Tamara Trotman ,
Angel Kibble ,
Sonia Dong ,
Elizabeth Meekes ,
Alanna Sanford ,
Abby Creek ,
Candace Clark Trinchieri ,
Sally Lovelock ,
Lisa Kern ,
Teresa Schiavone ,
Emanuela Hall ,
Jaime Hayes ,
Marnie Hookie-Knowles ,
Jessi Harris ,
Sandy Casella ,
Susan Elstob ,
Sonia Dong ,
Leanne Sigrist
Pre-Order (Not Yet Published)
Being a mama has a plethora of challenges on its own, and it can be exhausting on the best of days. When it comes time to transition and grow through motherhood, what might a woman consciously do? How can she handle uncharted territory with her family, child(ren), partner, caregiver, colleagues, and the rest of the world? What sort of learning curves may she face mentally, emotionally, physically, and spiritually? How does she adapt to various changes, shift gears in her lifestyle, pivot in pandemic times, and embrace new normals? Let's get real and start the conversation, because Mama's Gotta Grow! We as mothers are here to support one another, and lift each other up by sharing our personal experiences. It's time for mamas all over the world to feel a sense of unity, positive reinforcement, community belonging, and to have access to information from those who have walked the path before them. The goal of this book is to uplift as many mamas as possible, from all walks of life, and to better prepare them for what's to come as they embark on their own journey through personal growth. This book provides an abundance of hope and inspiration to mamas—you can do this!
Whitney Stout is an energy work coach for Trauma Stewards, and staff attorney at South Carolina Legal Services in the USA. Her work includes leading a unit dedicated to tackling implicit bias and the systemic inequities that impact people of color, the LGBTQ+, and limited English-speaking communities. She holds a juris doctor and bachelor of arts degree in psychology and spanish. She is a 2019 Fellow of the Shriver Center Racial Justice Institute. Whitney is also Reiki certified and taking part in a Shamanic Practitioner Certification program. Her passions for psychology, energy work, and systems thinking led her to develop and offer courses and coaching for individuals to unpack, clear, and heal the biases and toxic patterns limiting them from living their authentic truths. Teresa is an award-winning editor with over fifteen years of experience helping organizations build their brands and tell their stories through marketing, PR, and communications. After the birth of her daughter Sienna Valentina in 2015, she decided to leave her corporate life behind. Inspired by her love of writing and passion for style and design, she started a consulting boutique as a copywriter and co-founded an events and decor company. Teresa resides in Mississauga, ON, and hopes that by sharing her story she can help other women do the same!
ISBN: 9781989819142
ISBN-10: 9781989819142
Publisher: Golden Brick Road Publishing House
Publication Date: 10/18/2021 - 12:00am
On Sale: 10/18/2021 - 12:00am
Pages: 220
Language: English
Categories
Family & Relationships / Parenting / Motherhood