Coupons for Him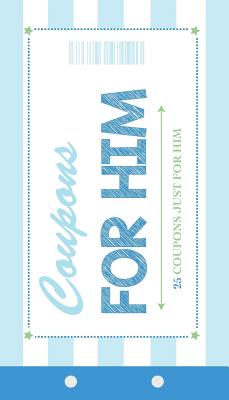 Coupons for Him
Out of Stock In Store (Click to Order)
This item may not be available to order. Please call 617-566-6660 for more information.
Coupon Book for Him
Coupons for Him is the perfect gift for him, ideal for birthdays, events or just because. Present the booklet to your partner to use when they please or present a single coupon to them to use as a fun activity.
Offering a range of fun favours from "Game Night" to "Dinner Date" to "Free Pass" to "Something New" to "Outdoor Day" to "Boys Night Out". With 25 fun vouchers in each pack, you will be sure to have the perfect coupon for each occasion.
Coupons for Him
- 25 fun coupons for a Him in each pack to use anywhere anytime
- 7*4 Inches
- Full color

Each coupon can also be used as a gift certificate and or gift voucher.
ISBN: 9781999670061
ISBN-10: 9781999670061
Publisher: Thomas Media
Publication Date: 04/18/2018 - 12:00am
On Sale: 04/18/2018 - 12:00am
Pages: 54
Language: English
Categories