Baby Sees First Colors: Black, White & Red: A totally mesmerizing high-contrast book for babies (Baby Sees!)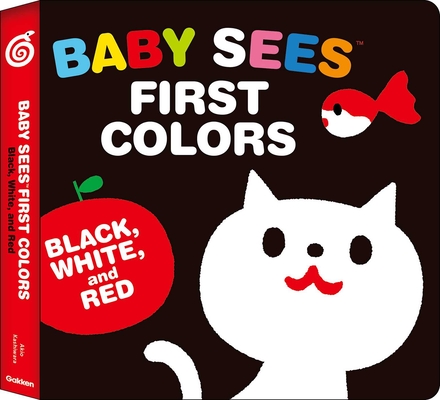 Baby Sees First Colors: Black, White & Red: A totally mesmerizing high-contrast book for babies (Baby Sees!)
Out of Stock In Store (Available to Order)
Every new parent purchases at least one high-contrast board book, and this one, with its bold, more abstract art, stands out from the crowd.
Featuring graphic images that are perfect for infants, parents and babies will love exploring this book together.

Infants can distinguish the colors black and white because of their high contrast. But what is the next color infants see? Red! The images in this book have been created based on decades of research and refinement and are accompanied by bouncy, rhyming text.
Fifteen years ago, Ms. Sakagashi, the creator of this book, set out to design a book that would soothe crying babies. Her first attempt published in 2003 featured black, white and red art, and found a loyal audience. But she was not satisfied: she refined the content as more and more babies read and responded to the art. She tried lines of different thickness, and eventually added more colors, and then in 2009, she stumbled onto a simple squiggle with a smiley face created by Akio Kashiwara, that changed everything. That squiggle was exactly what she was looking for. Ms. Sakagashi confimed her suspicion that babies would fall in love with Mr. Akio Kashiwara's art, and this book has sold close to 700,000 copies in Japan over the last 8 years, making lots of babies (and their parents) very happy.