Japanese Folktales: Classic Stories from Japan's Enchanted Past (Tuttle Classics)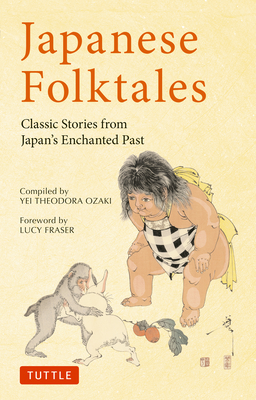 Japanese Folktales: Classic Stories from Japan's Enchanted Past (Tuttle Classics)
Likely On Our Shelves
Be transported to a realm of magical kingdoms, mysterious beings and mythical lands.
Japanese Folktales
is the most complete collection of Japanese stories in English. It introduces readers to the enchanting world of ghouls, goblins, ogres, sea kings, magical birds, dragons and of course, Momotaro, the lovable Peach Boy. Japanese folklore is richly imaginative and the 22 classic stories presented here are some of the most popular tales ever told, including:
The story of goldfish dancers and carp musicians who entertain a brave warrior
The tale of a lonely girl whose life is changed by a shining disc left by her mother
The explanation of how the jellyfish lost its bones
The adventures of a boy born from a peach that washes up on a riverbank
These well-loved folktales are sure to delight readers young and old, while introducing them to vivid world of Japanese myths and legends.
Yei Theodora Ozaki was the daughter of a Japanese father and an English mother. After her parents' marriage ended, Ozaki began a life of world travel, first raised by her mother in England and then her father in Japan. Later she traveled through Europe, where she began to translate the traditional Japanese stories she loved into English. She went on to translate several collections of Japanese folk tales including this one. Lucy Fraser is Lecturer in Japanese at the University of Queensland (AUS) where she teaches Japanese popular culture, literature and language. Her most recent publication is the book The Pleasures of Metamorphosis: Japanese and English Fairy Tale Transformation of "The Little Mermaid." Her research interests include animal-human interactions in Japanese fairy tale retellings.
ISBN: 9784805314616
ISBN-10: 9784805314616
Publisher: Tuttle Publishing
Publication Date: 08/21/2018 - 12:00am
On Sale: 08/21/2018 - 12:00am
Pages: 256
Language: English
Categories
Fairy Tales, Folk Tales, Legends & Mythology