The Complete Musashi: The Book of Five Rings and Other Works: Definitive New Translations of the Writings of Miyamoto Musashi - Japan's Greatest Samur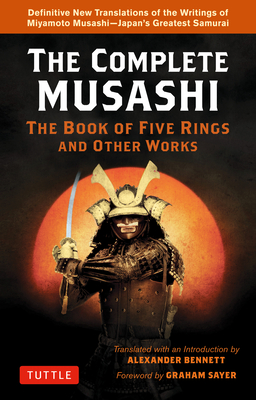 The Complete Musashi: The Book of Five Rings and Other Works: Definitive New Translations of the Writings of Miyamoto Musashi - Japan's Greatest Samur
Out of Stock In Store
The culmination of 25 years of research, Alex Bennett's groundbreaking English translation of Miyamoto Musashi's The Book of Five Rings reveals the true meaning of the original work.
This piece of writing by famed samurai Musashi (1584-1645) is the single-most influential work on samurai swordsmanship, offering insights into samurai history, the Zen Buddhist state of "no-mind" that enables warriors to triumph and the philosophical meaning of Bushido--"the way of the warrior." Until now, English translations of
The Book of Five Rings
have been based on inaccurate copies of Musashi's long-lost original manuscript. Bennett's translation is the first to be based on a careful reconstruction of the original text by Japan's foremost Musashi scholar. By identifying discrepancies among the existing copies, adding missing texts and correcting over 150 incorrect characters, this source is the closest representation of Musashi's original work possible. Utilizing this new source, Bennett captures the subtle nuance of the classic Japanese text, resulting in the most accurate English translation of
The Book of Five Rings
available. The texts are richly annotated by Bennett, who includes an extensive introduction on Musashi's life and legacy. This paperback edition also includes a new introduction by Kendo Kyoshi 7th Dan Graham Sayer, who talks about the influence Musashi's writings have had on him as a person and martial artist.
The Complete Musashi: The Book of Five Rings and Other Works
will be widely read by those interested in Japanese culture, Samurai history and martial arts--setting a new standard against which all other translations will be measured.
Alex Bennett holds two doctoral degrees in Japanese literature and history from Kyoto University and the University of Canterbury (NZ). He teaches courses in Japanese history, martial arts, and Budo theory at Kansai University. He is Vice President of the International Naginata Federation, International Committee Member of the All Japan Kendo Federation, Director of the Japanese Academy of Budo, and Head Coach of the NZ Kendo national team. He co-founded and edits Kendo World, the first English-language journal dedicated to Kendo. He holds black belt grades of Kendo Kyoshi 7-dan, Iaido 5-dan and Naginata 5-dan. He has competed successfully in many international competitions, taking second place in the World Naginata Championships in 2011, and best 8 in the team event at the World Kendo Championships in 2012. His published works include Bushido: The Samurai Code of Japan, Hagakure, Kendo: Culture of the Sword, Bushido Explained, Japan: The Ultimate Samurai Guide and numerous translations of Japanese martial arts texts. Foreword writer Graham Sayer has been president of the New Zealand Kendo Federation since 1987. He attained 4th Dan grade in Japan before moving back to New Zealand in 1985. He has represented New Zealand and competed in Kendo Championships around the world since then. Today he holds the rank of Kyoshi 7th Dan and also serves as auditor for the International Kendo Federation.
ISBN: 9784805316160
ISBN-10: 9784805316160
Publisher: Tuttle Publishing
Publication Date: 03/02/2021 - 12:00am
On Sale: 03/02/2021 - 12:00am
Pages: 240
Language: English
Categories