Run Silent Run Deep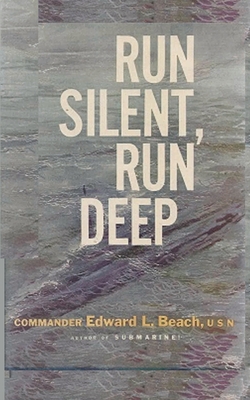 This is a book about submarine warfare that was made into a movie starring Bert Lancaster and Clarke Gable. There are similarities with the famous novel Moby Dick, as the commander is determined to get revenge on a Japanese ship who had sunk the submarine commanded by his friend, and so he ignores more important targets.
Run Silent, Run Deep is a novel by Commander (later Captain) Edward L. Beach Jr. The story describes World War II submarine warfare in the Pacific Ocean, and deals with themes of vengeance, endurance, courage, loyalty and honor, and how these can be tested during wartime. The name refers to "silent running", a submarine stealth tactic.
The novel was on The New York Times Book Review list for several months. The staff of New York Times Book Review included it on their list of 250 Outstanding Books of the Year. Beach served on submarines in the Pacific during the war.
The narrative is presented as the transcript of a Navy tape recording made by Commander Edward J. Richardson, recounting the events resulting in his receipt of the Medal of Honor. The note that purports to identify the text in this way says it was meant to be used in a war bond drive, but is unsuitable for that because Richardson "failed to confine himself to pertinent elements of the broad strategy of the war."
ISBN: 9784871870740
ISBN-10: 9784871870740
Publisher: Ishi Press
Publication Date: 07/16/2020 - 12:00am
On Sale: 07/16/2020 - 12:00am
Pages: 344
Language: English
Categories
Ships & Shipbuilding - Submarines