Full Fathom Five Wrecks of the Spanish Armada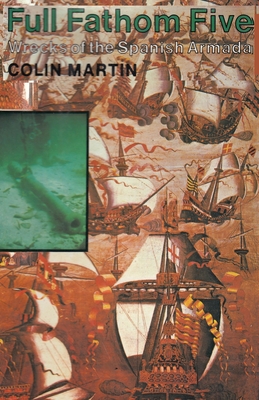 Full Fathom Five Wrecks of the Spanish Armada
"On Wednesday 17th April, the first day of the search, the weather was blustery, with a westerly wind gusting to Force 7. The waters of Basket Sound were dotted with white cresting breakers." In this inhospitable atmosphere off the coats of Ireland, Sydney Wignall, after years of preliminary study, began searching with Colin Martin and a team of divers for the remains of the Santa Maria de la Rosa. They believed that this ship from the Spanish Armada of 1588 had sunk in the treacherous waters of Blasket Sound. Doubts about her location and about their own efficiency assailed the team, and as days stretched to weeks they grew less and less assured of success. Then, on July 4, 1968, in the last minutes of what was to have been one of their final dives, a pile of ballast stones was sighted. After excavation, the wreckage proved to be that of the Santa Maria.
Full Fathom File is the lively account of this expedition and two others conducted by Wignall and Martin. From the
buried wrecks of the documents and testimony of the seventh-century participants and eyewitnesses they were able to find answers to questions that have puzzled historians for almost four centuries. Why were the formidable Spanish guns so ineffective against the British? What part did the elements play in the destruction of the invincible Armada"? How high was the standard of Spanish seamanship? What was daily life like for those who sailed in these hastily converted merchantmen?
By exploring these questions, Full Fathom Five pieces together the realities of the Spanish Armada from the clues lodged in the ocean floor that have survived both the sea and the centuries. Above all, it is an adventure story, telling of the excitement of discovery, the treacherous tide races, the technical problems of the retrieval and preservation of guns and other artifacts and the tense and terrifying days in the Spring of 1588, when the Armada set sail from Spain to attempt the impossible - the Conquest of England.