Claridad y conexión / Clarity & Connection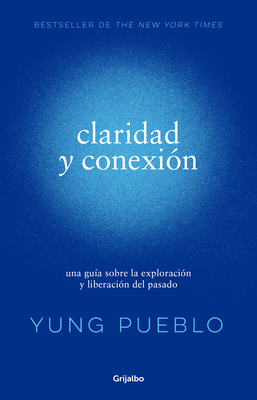 Claridad y conexión / Clarity & Connection
Likely On Our Shelves
Una guía sobre la exploración y liberación del pasado


Una poderosa colección de poesía y prosa breve para impulsar la  transformación personal y profundizar nuestra conexión con los demás.

Encuentra una pareja que te acepte como eres, pero que también te inspire a evolucionar porque se toma en serio su propio crecimiento, el amor no buscará cambiarte, te aceptará de forma tan incondicional que te sentirás en confianza para sanar lo viejo y esforzarte en lo nuevo, la valentía de ambos para mantener el compromiso de su viaje interior se reflejará de forma brillante en su relación. 

En Claridad y conexión, Yung Pueblo describe cómo las emociones intensas se acumulan en nuestro subconsciente y nos condicionan para actuar y reaccionar de determinadas formas. Con su estilo poético característicamente sobrio, guía a los lectores a través de la excavación y liberación del pasado que se requiere para el crecimiento.Para ser leído por sí solo o como un complemento de Inward, el segundo trabajo de Yung Pueblo es un recurso poderoso para quienes invierten en el trabajo de transformación personal, construyendo conciencia de sí mismos y profundizando su conexión con los demás.

ENGLISH DESCRIPTION

NEW YORK TIMES BESTSELLER

From the celebrated author of Inward comes a new collection of poetry and short prose focused on understanding how past wounds impact our present relationships.

In Clarity & Connection, Yung Pueblo describes how intense emotions accumulate in our subconscious and condition us to act and react in certain ways. In his characteristically spare, poetic style, he guides readers through the excavation and release of the past that is required for growth.
To be read on its own or as a complement to Inward, Yung Pueblo's second work is a powerful resource for those invested in the work of personal transformation, building self-awareness, and deepening their connection with others.
YUNG PUEBLO Diego Pérez nació en Ecuador y emigró a los Estados Unidos cuando era niño. Creció en Boston y asistió a la Universidad de Wesley. Se dio cuenta de que la sanación y la liberación reales eran posibles. Se comprometió más con su práctica de la meditación mientras vivía en la ciudad de Nueva York. Los resultados que presenció de primera mano le impulsaron a describir sus experiencias por escrito. 
EL apodo Yung Pueblo significa «gente joven» y pretende transmitir que la humanidad está entrando en una era de notable crecimiento y sanación, en la que muchos ampliarán su consciencia y liberarán viejas cargas. 
La presencia online de diego como Yung Pueblo, así como sus libros, Hacia adentro y Claridad y conexión, están pensados para servir a quienes emprenden su propio viaje de transformación personal. Actualmente, Diego reside en el oeste de Massachusetts con su esposa, donde viven tranquilamente y meditan a diario.