Itinerarios interiores (Fragmentos #51)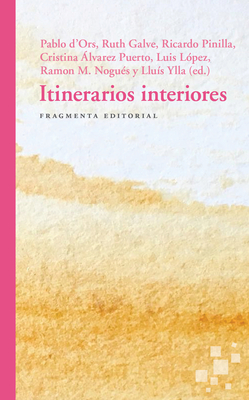 Itinerarios interiores (Fragmentos #51)
Este libro reúne algunas intuiciones de siete exploradores de la interioridad conscientes de que el viaje más largo es el viaje hacia el propio interior. Con una prosa estilísticamente cuidada, los autores nos invitan a recorrer este camino a través del silencio, la palabra, la sabiduría, el arte, la corporalidad, la ciencia, el espacio y el tiempo.

Each of the seven inspirational essays that make up this collection sets out to explore a different inward pathway towards the self. Through the lens of silence, language, wisdom, art, science, space, and time, seven specialists from a variety of fields including biology, pedagogy, and theology to explore the different ways towards oneself. 
Cristina Álvarez Puerto is a pedagogue, psycho-motility therapist, and specialist in educational psychology whose methodology incorporates writing practices as well as body work. Pablo d'Ors is a Catholic priest and theologian. He is also the author of half a dozen books, including the best-selling trilogy El amigo del desierto, El olvido de sí, and Biografía del silencio.
ISBN: 9788417796068
ISBN-10: 9788417796068
Publisher: Fragmenta Editorial
Publication Date: 02/01/2021 - 12:00am
On Sale: 02/01/2021 - 12:00am
Pages: 128
Language: Spanish
Categories