El relojero de Filigree Street / The Watchmaker of Filigree Street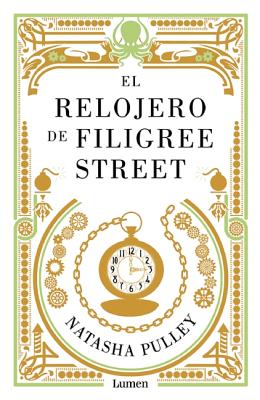 El relojero de Filigree Street / The Watchmaker of Filigree Street
Unavailable
El relojero de Filigree Street es una novela insólita, brillante, que nos devuelve al Londres de Chesterton, un lugar donde se dan cita las emociones, el ingenio y los mecanismos de relojería.

Londres, 1883. Al regresar a su pequeño apartamento, Thaniel Steepleton se lleva una sorpresa: alguien ha dejado un reloj de oro en su almohada, pero el joven no tiene tiempo de averiguar quién ha entrado en su casa y se ha portado de forma tan generosa... Trabaja como telegrafista en el ministerio de asuntos interiores y acaba de recibir un cable anunciando un atentado.

Cuando la alarma del misterioso reloj le salva de una explosión que destruye varios edificios, Thaniel emprende la búsqueda del relojero que lo programó, y descubre a su creador: Keita Mori, un japonés amable y solitario, que domina los secretos del tiempo y le lleva de la mano a un mundo nuevo, delicado y misterioso.

Mientras tanto, Grace Carrow, una joven estudiante dedicada en cuerpo y alma a la física, se cuela furtivamente en una biblioteca de Oxford disfrazada de hombre, antes de que su madre la obligue a casarse.

¿Cómo van a cruzarse las vidas de Thaniel y Mori con las ambiciones de Grace?¿Qué los une y, más aun, qué los separa?

El relojero de Filigree Street es el sorprendente debut literario de una autora joven y talentosa, Natasha Pulley. Una maravillosa novela que trata sobre un hombre cuya vida funcionaba como un reloj... hasta que conoció al relojero.

ENGLISH DESCRIPTION

1883. Thaniel Steepleton returns home to his tiny London apartment to find a gold pocket watch on his pillow. Six months later, the mysterious timepiece saves his life, drawing him away from a blast that destroys Scotland Yard. At last, he goes in search of its maker, Keita Mori, a kind, lonely immigrant from Japan. Although Mori seems harmless, a chain of unexplainable events soon suggests he must be hiding something. When Grace Carrow, an Oxford physicist, unwittingly interferes, Thaniel is torn between opposing loyalties.

The Watchmaker of Filigree Street is a sweeping, atmospheric narrative that takes the reader on an unexpected journey through Victorian London, Japan as its civil war crumbles long-standing traditions, and beyond. Blending historical events with dazzling flights of fancy, it opens doors to a strange and magical past.
ISBN: 9788426402615
ISBN-10: 9788426402615
Publisher: Lumen
Publication Date: 06/28/2016 - 12:00am
On Sale: 06/28/2016 - 12:00am
Pages: 448
Language: Spanish
Categories