China: la edad de la ambición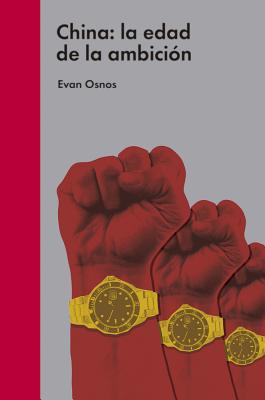 China: la edad de la ambición
Unavailable
After five years as a correspondent in China for The New Yorker, Evan Osnos has written one of the books that best explains the country's complex reality in a crucial moment of its history. In China: la edad de la ambición, he analyzes three major themes: the search for prosperity, attempts at democratic openness, and spirituality —all amid the omnipresent Community Party. The book also incorporates accounts from various citizens, some anonymous and some famous, as in the case of Ai Weiwei, on the effects of this breakneck pursuit of wealth on all areas of Chinese society.
 
Tras pasar cinco años como corresponsal en China de la revista New Yorker, Evan Osnos ha escrito uno de los libros que mejor explica la compleja realidad del gigante asiático en un momento crucial de su historia. El libro analiza tres grandes temas –la búsqueda de la prosperidad, los intentos de apertura democrática y la espiritualidad; con la presencia omnipresente del Partido Comunista. El libro también reúne los testimonios de distintos ciudadanos, algunos anónimos y otros tan famosos como Ai Weiwei, el artista que se ha atrevido a denunciar los abusos del macro estado inmerso en esta Edad de la Ambición. Esta desenfrenada carrera por la riqueza afecta a todos los estratos de la sociedad china y amenaza con romper la estabilidad social que ha sido la clave de su éxito.
Evan Osnos is a British journalist and writer. He was a correspondent in China for The New Yorker between 2008 and 2013. He won the National Book Award in the nonfiction category for China: la edad de la ambición, as well as inclusion in The Economist's Books of the Year list. He has also been a Pulitzer Prize finalist.

ISBN: 9788494174964
ISBN-10: 9788494174964
Publisher: Malpaso Editorial
Publication Date: 07/01/2018 - 12:00am
On Sale: 07/01/2018 - 12:00am
Pages: 274
Language: Spanish
Categories
Political Science / World / Asian