The Big Book of True Recovery from Food Addiction and Beyond: It's Not Broccoli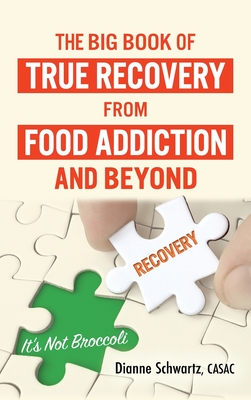 The Big Book of True Recovery from Food Addiction and Beyond: It's Not Broccoli
Out of Stock In Store
If it's not broccoli, what is it?
What blocks us from having a voice, living authentically, and demonstrating our best, most confident selves to the world? Why do we prevent ourselves from accomplishing our goals? Why do we continue to engage in the same destructive patterns that hold us back from living in our potential? In The Big Book of True Recovery from Food Addiction and Beyond, Dianne Schwartz offers the answers and the ultimate solution to the struggles we all experience.
Based on a unique education series designed to help people understand the changes necessary to recover from addiction and regain their health, this book presents the surprisingly simple solution to not only food addiction but also secondary conditions, including substance abuse, resulting from it. In simple and straightforward language, Schwartz deconstructs the pathology of all addictions, with a focus on how biochemical and neurological processes of the brain's reward circuitry is at the foundation of every addictive disorder.
Realization Center is a New York-based addictions treatment center that features a unique food addiction program where food addiction is treated as a biochemical illness with emotional underpinnings to help clients regain dignity and freedom. Men, women, and adolescents in the program learn that weight is not the issue but rather the symptom of their disease. As the disease of food addiction is treated, weight begins to normalize, and energy, mood, and life begin to optimize. In this book, you'll learn what the clients at Realization Center do: The Key to True Recovery from Food Addiction is a specific plan of eating that will relieve you of all cravings and improve your well-being and self-esteem and prevent relapse.
ISBN: 9798218034849
ISBN-10: 9798218034849
Publisher: Realization Center Inc.
Publication Date: 07/11/2022 - 12:00am
On Sale: 07/11/2022 - 12:00am
Pages: 518
Language: English
Categories
Substance Abuse & Addictions - General