Instant Pot Type 2 - Diabetes Cookbook Easy Way to Prepare Low Carb Meal: Balanced Recipes for Healthy Diet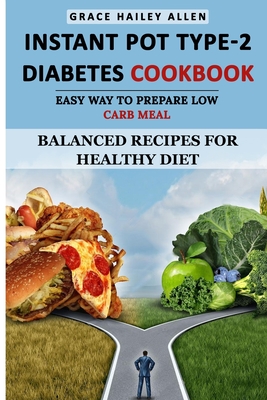 Instant Pot Type 2 - Diabetes Cookbook Easy Way to Prepare Low Carb Meal: Balanced Recipes for Healthy Diet
Out of Stock In Store (Click to Order)
This item may not be available to order. Please call 617-566-6660 for more information.
If you have tried everything imaginable, but have never been able to keep your blood sugar levels in your target range with the right diet, then this could be one of the most important books you have read in years.
Are you looking for the best ways to reverse the progress of your type-2 diabetes with delicious foods without pills and injections? Are you interested in adopting a low-carb lifestyle to lose weight and maintain good blood sugar levels, but still don't know how to start?
"Instant Pot Type-2 Diabetes Cookbook: Easy Way to Prepare Low Carb Meal" is a collection that draws on the best low-carb recipes from all over the world and shows you everything you need to prep and cook for your healthy lifestyle. This book reveals how ordinary people from all walks of life can easily stop the progress of their diabetes, lose weight and feel healthier by leveraging the power of delicious low-carb meals.
Being diagnosed with type-2 diabetes can be terrifying, but many studies have shown that diabetics experience great improvements to blood sugar control while on low-carb diets. However, as more people are adopting the low-carb lifestyle, there are lots of bad information or misinformation out there. That is where this guide comes in to help.
Filled with information designed to speed weight loss and revolutionize your health, this book comes with multiple delicious low-carb recipes that are easy to put together even for people with zero kitchen experience.
Here is a preview of what you will discover inside this book:
Robust information on how you can control your blood sugar levels with a healthy diet
Specific ways to reverse the progress of type-2 diabetes with a low-carb diet
Various easy low carb recipes that are healthy but still packed with flavor
How to cook low-carb dishes using easy-to-source, inexpensive ingredients at home
A unique section, covering how you can lose weight without spending hours in the gym
And much more...
Whether your goal is to eat well with diabetes, lose weight, adopt a healthy lifestyle, or you simply want to discover the healthy alternatives to sugar and chemical-laden junk foods, this is written to empower you with riveting information.
Scroll Up and Click The "Buy Now" Button to Get This Book Today

ISBN: 9798635138175
ISBN-10: 9798635138175
Publisher: Independently Published
Publication Date: 04/08/2020 - 12:00am
On Sale: 04/08/2020 - 12:00am
Pages: 156
Language: English
Categories