Past Event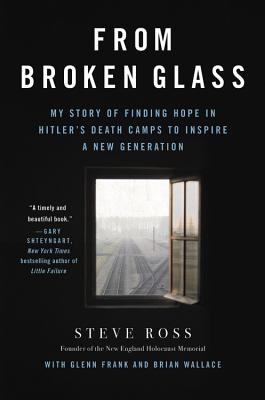 Buy Now
As a young child in Nazi-occupied Poland, Steve Ross (then Smulek Rozental) endured unspeakable violence and deprivation in ten concentration camps. Steve Ross's son and co-authors speak about the survivor of ten Nazi concentration camps who went on to create the New England Holocaust Memorial and pen this inspiring memoir of strength in the face of despair.
Michael P. Ross's experience solving complex problems and bringing disparate parties together as a legislator now extends to his practice as an attorney, where he focuses on commercial real estate, strategic advice, and government relations. Mike served for 14 years as a Boston City Councilor, as well as serving as the President of the body.  In 2013, he entered the race for mayor, sharing a bold vision for the city's future. Mike's commitment to social and economic justice extends to his professional and personal life.  A first-generation American, he learned early on about the importance of building a more just and equal society.  His father survived 9 concentration camps during the Holocaust and was rescued by American soldiers at Dachau.  Mike was appointed by President Obama to serve on the council of the United States Holocaust Museum. Mike holds a bachelor's degree from Clark University in Worcester, an MBA from Boston University, and a law degree from Suffolk University.  Mike writes opinion columns regularly for The Boston Globe and has written for Boston magazine and Politico.
Reader responses:
"Steve Ross is a quiet leader for our city in the things we care about--helping people overcome obstacles, mentoring youth, providing the power of example....As he did this work, Ross brought people together across all kinds of historic boundaries--neighborhoods, races, religions. From Broken Glass is inspiring beyond words."
--Marty Walsh, Mayor of Boston
"Remarkable…a profound and compelling addition to the literature of the Holocaust at a time when it is more critical than ever."
—Ayelet Waldman, bestselling author of Love and Treasure
"From Broken Glass is a captivating and deeply personal story of a young boy's experience in the Holocaust, and the ways that event shaped his life as an adult in America. Ross's remarkably detailed account stands as a testament to the resilience of the human spirit. It is relevant to this day, a reminder of what can happen when we lose sight of the humanity of others in society."
—Senator Dianne Feinstein
"Throughout his childhood, Steve Ross was given every reason to hate, fear, and withdraw, but instead he has spent his life building a kinder, gentler, more hopeful world. You cannot read Ross's story and resist his contagious optimism for a better tomorrow."
—Congressman Joe Kennedy III
Add to Calendar