Past Event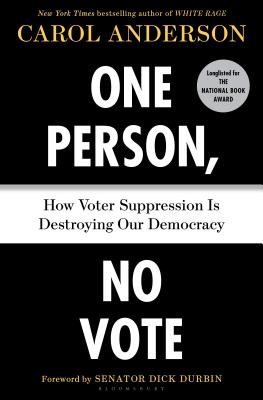 Buy Now
This event will take place at the Brookline Village location of the Public Library of Brookline.
In her New York Times bestseller White Rage, Carol Anderson laid bare an insidious history of policies that have systematically impeded black progress in America, from 1865 to our combustible present. With One Person, No Vote, she chronicles a related history: the rollbacks to African American participation in the vote since the 2013 Supreme Court decision that eviscerated the Voting Rights Act of 1965. Known as the Shelby ruling, this decision effectively allowed districts with a demonstrated history of racial discrimination to change voting requirements without approval from the Department of Justice.
Focusing on the aftermath of Shelby, Anderson follows the astonishing story of government-dictated racial discrimination unfolding before our very eyes as more and more states adopt voter suppression laws. In gripping, enlightening detail she explains how voter suppression works, from photo ID requirements to gerrymandering to poll closures. And with vivid characters, she explores the resistance: the organizing, activism, and court battles to restore the basic right to vote to all Americans as the nation gears up for the 2018 midterm elections.
PRAISE:
"Anderson examines the treacherous machinations of a government actively working to exclude voters based on undisguised racial profiling. This is a whiplash inducing chronicle of how a nation that just a few short years ago elected its first black president now finds itself in the throes of a deceitful and craven effort to rip this most essential of American rights from millions of its citizens."
— starred review, Booklist
ABOUT THE AUTHOR:
CAROL ANDERSON is the Charles Howard Candler Professor and Chair of African American Studies at Emory University. She is the author of the New York Times bestseller White Rage, which won the National Book Critics Circle Award, Bourgeois Radicals, and Eyes off the Prize. She lives in Atlanta, Georgia.
Add to Calendar