Past Event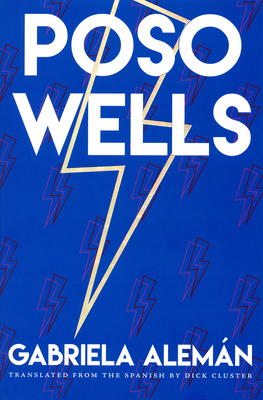 Buy Now
Poso Wells
To watch a recording of this event and other select Transnational events, visit WGBH Forum Network.
Celebrated Ecuadorian author Gabriela Alemán's first work to appear in English: a noir, feminist eco-thriller in which venally corrupt politicians and greedy land speculators finally get their just comeuppance. Read an excerpt of Poso Wells at Words Without Borders.
"Poso Wells is ironic, audacious, and fierce. But what is it, exactly? A satire? A scifi novel? A political detective yarn? Or the purest reality of contemporary Latin America. It's unclassifiable–as all great books are." - Samanta Schweblin, author of Fever Dream
Gabriela Alemán, based in Quito, Ecuador, has played professional basketball in Switzerland and Paraguay and has worked as a waitress, administrator, translator, radio scriptwriter, and film studies professor. She received a PhD at Tulane University and holds a Master's degree in Latin American Literature from Universidad Andina Simón Bolívar. Her literary honors include a Guggenheim Fellowship in 2006; member of Bogotá 39, a 2007 selection of the most important up-and-coming writers in Latin America in the post-Boom generation; one of five finalists for the 2015 Premio Hispanoamericano de Cuento Gabriel García Márquez (Colombia) for her story collection La muerte silba un blues; and winner of several prizes for critical essays on literature and film. This is her first full-length work to appear in English.
Dick Cluster is a writer and translator living in Oakland, California. He is editor/translator of the recently released Kill the Ámpaya!: Best Latin American Baseball Fiction, and co-author with Rafael Hernández of History of Havana. His many published translations include fiction and poetry from the Caribbean, Chile, Mexico, Colombia, and Spain.  He's the author of the novels Return to Sender, Repulse Monkey, and Obligations of the Bone.