Past Event
Brookline Booksmith Used Book Cellar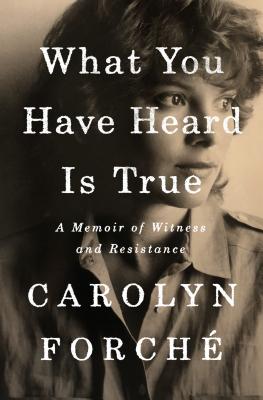 Buy Now
What You Have Heard Is True: A Memoir of Witness and Resistance
What You Have Heard is True is a devastating, lyrical, and visionary memoir about a young woman's brave choice to engage with horror in order to help others. Written by one of the most gifted poets of her generation, this is the story of a woman's radical act of empathy, and her fateful encounter with an intriguing man who changes the course of her life.
Carolyn Forché is an American poet, editor, translator, and activist. Her books of poetry are Blue Hour, The Angel of History, The Country Between Us, and Gathering the Tribes. In 2013, Forché received the Academy of American Poets Fellowship given for distinguished poetic achievement. In 2017, she became one of the first two poets to receive the Windham-Campbell Prize. She is a University Professor at Georgetown University. Forché lives in Maryland with her husband, the photographer Harry Mattison.
Askold Melnyczuk is a writer, editor, translator, and professor. He is the author of four books and has published essays, reviews, poetry, and translations in The New York Times, The Boston Globe, Glimmer Train, The Harvard Review, and elsewhere. He founded AGNI magazine in 1972 and in 2001 received the Magid Award from PEN which described AGNI as "one of America's, and the world's, most significant literary journals." He has taught at Harvard University and currently teaches at the University of Massachusetts Boston.