Past Event
Brookline Booksmith Used Book Cellar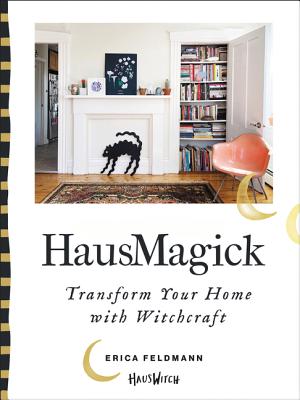 Buy Now
HausMagick: Transform Your Home with Witchcraft
Harness the power of magic to create a beautiful, healing living space with this unique illustrated guide from the founder of HausWitch, the popular Salem, Massachusetts, store and online lifestyle brand.
Anyone looking to put together their ideal home—full of beauty, comfort, protection, and positive energy—will gravitate to HausMagick, a simple and striking modern handbook for using witchcraft to bring divine wellbeing into every dwelling.
Owner and founder of HausWitch, ERICA FELDMANN has been using intuition to heal spaces from a very young age. A Chicago native, Feldmann moved to Salem, MA, in 2010 to study witches and the sacred feminine in the Gender and Cultural Studies graduate program at Simmons College. The knowledge she gained there, combined with her innate talents for interiors, came together to form HausWitch, a company devoted to helping people heal their spaces and love their homes.