Past Event
Congregation Kehillath Israel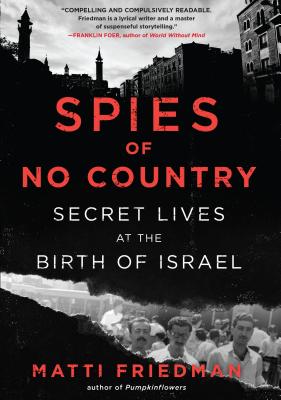 Buy Now
Spies of No Country: Secret Lives at the Birth of Israel
UPDATE: this reading will take place at Congregation Kehillath Israel (384 Harvard St., Brookline). The event is free & open to the public.
Award-winning writer Matti Friedman's tale of Israel's first spies has all the tropes of an espionage novel, including duplicity, betrayal, disguise, clandestine meetings, the bluff, and the double bluff - but it's all true.
Spies of No Country is about the slippery identities of four young spies, but it's also about Israel's own complicated and fascinating identity. Israel sees itself and presents itself as a Western nation, when in fact more than half the country has Middle Eastern roots and traditions, like the spies of this story. And, according to Friedman, that goes a long way toward explaining the life and politics of the country, and why it often baffles the West.
Matti Friedman's 2016 book Pumpkinflowers was chosen as a New York Times Notable Book. It was selected as one of the year's best by Booklist, Mother Jones, Foreign Affairs, the National Post, and the Globe and Mail. His first book, The Aleppo Codex, won the 2014 Sami Rohr Prize, the ALA's Sophie Brody Medal, and the Canadian Jewish Book Award for history.