Past Event
Brookline Booksmith Used Book Cellar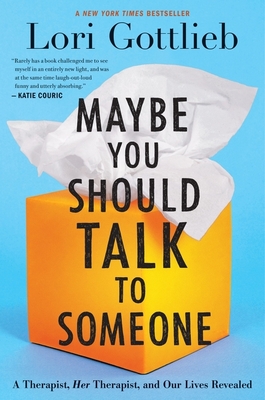 Buy Now
Maybe You Should Talk to Someone: A Therapist, HER Therapist, and Our Lives Revealed
One day, Lori Gottlieb is a therapist who helps patients in her Los Angeles practice. The next, a crisis causes her world to come crashing down. Enter Wendell, the quirky but seasoned therapist in whose office she suddenly lands. As Gottlieb explores the inner chambers of her patients' lives—a self-absorbed Hollywood producer, a young newlywed diagnosed with a terminal illness, a senior citizen threatening to end her life on her birthday if nothing gets better, and a twenty-something who can't stop hooking up with the wrong guys—she finds that the questions they are struggling with are the very ones she is now bringing to Wendell: about desire and need, guilt and redemption, meaning and mortality, loneliness and love.
Lori Gottlieb is a psychotherapist and New York Times bestselling author who writes the weekly "Dear Therapist" advice column for the Atlantic. A contributing editor for the Atlantic, she also writes for the New York Times Magazine, and is a sought-after expert on relationships, parenting, and hot-button mental health topics in media such as The Today Show, Good Morning America, CBS This Morning, Dr. Phil, CNN, and NPR. She lives in Los Angeles.
Dr. Amy Cuddy is a social psychologist, bestselling author, award-winning Harvard lecturer, and expert on the behavioral science of power, presence, and prejudice. Cuddy earned her Ph.D. from Princeton University in 2005 and was a professor at Harvard Business School from 2008 to 2017, Northwestern University's Kellogg School of Management from 2006 to 2008, and Rutgers University from 2005 to 2006. She continues to teach at Harvard Business School in executive education.