Past Event
Brookline Booksmith Used Book Cellar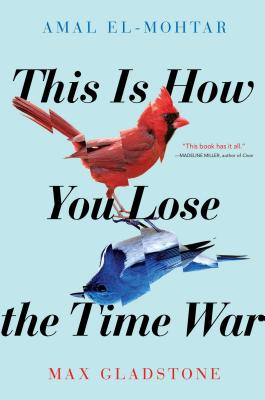 Buy Now
THE DATE AND TIME OF THIS EVENT HAVE CHANGED. It will now take place on MONDAY, JULY 15 at 7PM.
The authors will be in conversation with Kat Howard.
Among the ashes of a dying world, an agent of the Commandant finds a letter. It reads: Burn before reading. Thus begins an unlikely correspondence between two rival agents hellbent on securing the best possible future for their warring factions. Now, what began as a taunt, a battlefield boast, grows into something more. Something epic. Something romantic. Something that could change the past and the future.
Amal El-Mohtar is an award-winning author, editor, and critic. Her short story "Seasons of Glass and Iron" won the Hugo, Nebula, and Locus awards and was a finalist for the World Fantasy, Sturgeon, Aurora, and Eugie Foster awards. She is the author of The Honey Month, a collection of poetry and prose written to the taste of twenty-eight different kinds of honey, and contributes criticism to NPR Books and The New York Times.
Max Gladstone is the author of the Hugo-nominated Craft Sequence, which Patrick Rothfuss called "stupefyingly good." The sixth book, Ruin of Angels, was released this September. Max's interactive mobile game Choice of the Deathless was nominated for the XYZZY Award, and his critically acclaimed short fiction has appeared on Tor.com and in Uncanny Magazine, and in anthologies such as XO Orpheus: Fifty New Myths and The Starlit Wood: New Fairy Tales.
Add to Calendar