Upcoming Event
Brookline Booksmith Used Book Cellar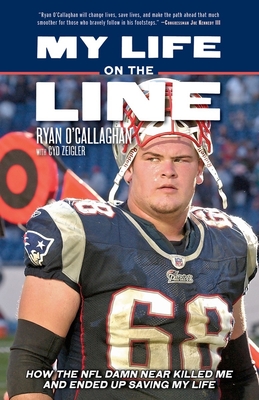 Buy Now
My Life on the Line
In conversation with Steve Buckley.
Bubbling under the surface of Ryan's entire NFL career was a collision course between his secret sexuality and his hidden drug use. When the league caught him smoking pot, he turned to NFL-sanctioned prescription painkillers that quickly sent his life into a tailspin. As injuries mounted and his daily intake of opioids reached a near-lethal level, he wrote his suicide note to his parents and plotted his death.
Yet someone had been watching; a member of the Chiefs organization stepped in. Nearing the twilight of his career, Ryan faced the ultimate decision: end it all, or find out if his family and football friends could ever accept a gay man in their lives.
Ryan O'Callaghan played right tackle in the NFL for six seasons, with the New England Patriots and Kansas City Chiefs. Before he was drafted by the Patriots in 2006, he played for the University of California Golden Bears, where he helped the team win two bowl games and was named the 2005 Morris Trophy winner as the Pac-10's best offensive lineman. O'Callaghan is the creator of a foundation designed to provide scholarships for out LGBTQ athletes. He currently lives in his hometown of Redding, California. All of O'Callaghan's proceeds from the dale of this book will benefit The Ryan O'Callaghan Foundation (www.ROFDN.org).