Past Event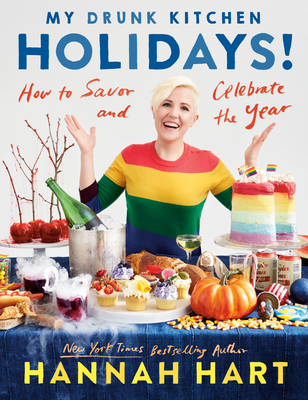 UPDATE: Hannah Hart will now be joined in conversation by Thomas Sanders and Kelsey Darragh!
A collection of recipes, activities, and suggestions about hilarious and joyous ways to celebrate with family, friends, pets, and your entire community, My Drunk Kitchen Holidays! will commemorate holidays from Valentine's Day to Graduation, Pride Month and International Left-Handers' Day (really!). The book will cumulate with the fall holidays that get much deserved attention: recipes for Halloween, Thanksgiving, and a celebration of Hanukkah/Kwanzaa/Christmas that is festive, inclusive, and incredibly hilarious.
Hannah Hart is an entertainer, food enthusiast, and two-time New York Times bestselling author (Buffering: Unshared Tales of a Life Fully Loaded and My Drunk Kitchen: A Guide to Eating, Drinking, and Going with Your Gut). Since creating the YouTube series My Drunk Kitchen, Hart has co-produced and starred in multiple films and hosted her own show on the Food Network, I Hart Food.
Add to Calendar