Past Event
Brookline Booksmith Used Book Cellar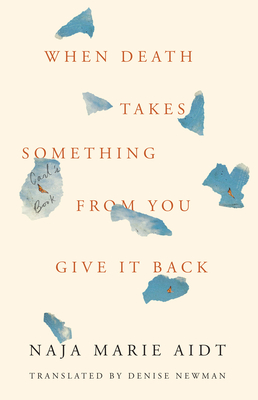 Buy Now
"There is no one quite like Naja Marie Aidt. She's comparable only to things like sequoias, whale-song, desert thunderstorms, or wolves. The depth of her emotional world and the diaphanous, often brutal clarity with which she understands the human soul beckon us to pause, breathe, think. Here, she takes us on a journey into death and loss, and then thrusts us back out - back into life - more awake, more ready to embrace it as it comes." - Valeria Luiselli
In March 2015, Naja Marie Aidt's twenty-five-year-old son, Carl, died in a tragic accident. When Death Takes Something from You Give It Back chronicles the few first years after that devastating phone call. It is at once a sober account of life after losing a child and an exploration of the language of poetry, loss, and love.
Translated from the Danish by Denise Newman, the intensely moving When Death Takes Something from You Give It Back explores what it is to be a family, what it is to love and lose, and what it is to treasure life in spite of death's indomitable resolve.
Naja Marie Aidt was born in Greenland and raised in Cophenhagen. She is the author of twelve collections of poetry, a novel, and three short story collections, including Baboon, which won the 2008 Nordic Council Literature Prize.
Valeria Luiselli was born in Mexico City and grew up in South Korea, South Africa and India. An acclaimed writer of both fiction and nonfiction, she is the author of the essay collection Sidewalks; the novels Faces in the Crowd and The Story of My Teeth; the nonfiction work Tell Me How It Ends: An Essay in Forty Questions, and most recently, Lost Children Archive. She is the winner of two Los Angeles Times Book Prizes and an American Book Award, and has twice been nominated for the National Book Critics Circle Award and the Kirkus Prize. Her work has been translated into more than twenty languages. She lives in New York City.
Add to Calendar