Upcoming Event
Brookline Booksmith Used Book Cellar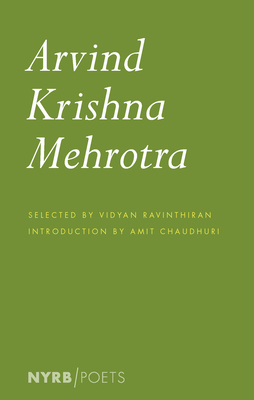 Buy Now
Arvind Krishna Mehrotra
A one-of-a-kind collection of work by one of India's best contemporary poets.
Gathering the work of a lifetime, spanning four books of poetry and including thirty-four new poems, this is the first comprehensive collection to be published in the United States and the United Kingdom of the work of one of India's most influential English-language poets. Arvind Krishna Mehrotra's poetry has long been known for its mixing of the commonplace and the strange, the autobiographical and the fabulous, in which the insignificant details of everyday life—whether contemporary or historical—bring larger patterns into focus. His celebrated translations from Indian languages (Prakrit, Hindi, Gujarati, Bengali) take up a third of Collected Poems. Selections from The Absent Traveller and Songs of Kabir are followed by those of Nirala, Vinod Kumar Shukla, Mangalesh Dabral, Pavankumar Jain, and Shakti Chattopadhyay. Together they tell the story of Indian poetry over two millennia.
Arvind Krishna Mehrotra is the author of several books of poetry, the editor of The Oxford India Anthology of Twelve Modern Indian Poets and Collected Poems in English by Arun Kolatkar, and the translator of The Absent Traveller: Prakrit Love Poetry and Songs of Kabir. He lives in Dehradun.
Laetitia Zecchini is a permanent researcher at the CNRS in Paris, France. She has published extensively on Arun Kolatkar and on modern Indian literature. Her research interests focus on contemporary Indian poetry and on the politics of literature, on postcolonial criticism, non-western modernisms, dalit literatures and South Asian literary history. She is the translator of Kolatkar's Kala Ghoda Poems (2013) into French.