Past Event
Brookline Booksmith Used Book Cellar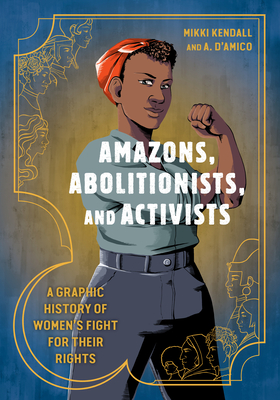 Buy Now
THIS EVENT WAS PREVIOUSLY TICKETED. ATTENDANCE IS NOW FREE AND DOES NOT REQUIRE REGISTRATION TO ATTEND.
This event will be in conversation with Margaret H. Willison.
Join us for a talk and signing with Mikki Kendall to celebrate her new book! Each ticket includes a copy of Amazons, Abolitionists, and Activists: A Graphic History of Women's Fight for Their Rights.
Mikki Kendall is a writer, historian, and diversity consultant who writes about intersectionality, policing, gender, sexual assault, and other current events. Kendall's nonfiction can be found at Time.com, the Guardian, Washington Post, Ebony, Essence, Salon, XoJane, Bustle, Islamic Monthly, and a host of other outlets. Her media appearances include BBC, NPR, Al Jazeera, WVON, WBEZ, TWIB, and Showtime. Her comics work can be found in the Swords of Sorrow anthology, the Princeless charity anthology, and in the Columbus College of Art and Design anthology of 2016.
Add to Calendar