Past Event
Brookline Booksmith Used Book Cellar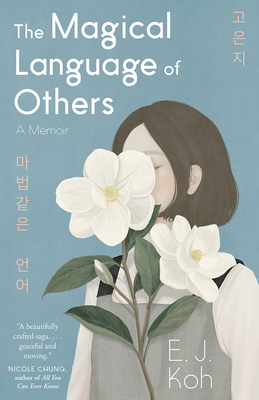 Buy Now
The Magical Language of Others is a powerful and aching love story in letters, from mother to daughter. After living in America for over a decade, Eun Ji Koh's parents return to South Korea for work, leaving fifteen-year-old Eun Ji and her brother behind in California. Overnight, Eun Ji finds herself abandoned and adrift in a world made strange by her mother's absence. Her mother writes letters, in Korean, over the years seeking forgiveness and love–letters Eun Ji cannot fully understand until she finds them years later hidden in a box.
The Magical Language of Others weaves a profound tale of hard-won selfhood and our deep bonds to family, place, and language, introducing–in Eun Ji Koh–a singular, incandescent voice.
E. J. Koh is the author of the poetry collection A Lesser Love, winner of the Pleiades Editors Prize (Louisiana State U. Press, 2017). Her poems, translations, and stories have appeared in Boston Review, Los Angeles Review of Books, and World Literature Today, among others. She is the recipient of The MacDowell Colony and Kundiman fellowships and a 2017 ALTA Emerging Translator Mentorship, and was runner-up for the 2018 Prairie Schooner Summer Nonfiction Prize.
Jennifer Tseng's flash fiction collection, The Passion of Woo & Isolde (Rose Metal Press 2017), was a Firecracker Award finalist and winner of an Eric Hoffer Book Award; and her novel, Mayumi and the Sea of Happiness (Europa Editions 2015), was shortlisted for the PEN American Center's Robert W. Bingham Prize for Debut Fiction and the New England Book Award. She's also published three award-winning books of poetry, The Man With My Face (AAWW 2005); the bilingual Red Flower, White Flower (Marick Press 2013) featuring Chinese translations by Mengying Han and Aaron Crippen; and Not so dear Jenny (Bateau Press 2017), poems made with her Chinese father's English letters. Jennifer and her sister, visual artist Amanda Tseng, collaborate on Instagram @tseng.sisters, using the hashtag #sistersreadingsisters. Together, her sister's images and her micro reviews celebrate books by women of color, queer women and women in translation—past, present, and future.
Add to Calendar