Past Event
Brookline Booksmith Used Book Cellar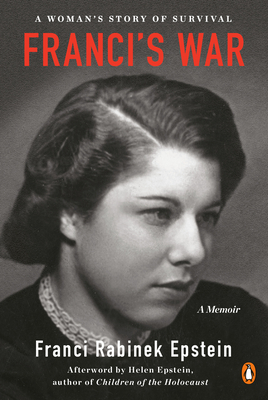 Buy Now
THIS EVENT HAS BEEN CANCELLED.
The engrossing memoir of a spirited and glamorous young fashion designer who survived World War ll, with an afterword by her daughter, Helen Epstein, who joins us for this event. Franci's War is the powerful testimony of one incredibly strong young woman who endured the horrors of the Holocaust and survived.
Franci Rabinek Epstein was born into a privileged family in Prague, Czechoslovakia in 1920 and educated at the Ecole Francaise, Lycee de Prague, and the Deutsches Staatsrealgymnasium before dropping out to apprentice in her mother's haute-couture Salon. At 18, Franci became the owner of the Salon and in 1940 she married Joe Solar. She regarded the Nazi concentration camps as her university. After liberation, she returned to Prague and married Kurt Epstein in 1946. In 1948, after the Communist takeover of Czechoslovakia, she emigrated to New York City and established a new fashion salon on the Upper West Side. She lectured at universities on her experience during the war before dying of a brain aneurysm in 1989.
Helen Epstein is a veteran arts journalist and author or translator of ten books of non-fiction including the trilogy Children of the Holocaust, Where She Came From: A Daughter's Search for Her Mother's History; and The Long Half-Lives of Love and Trauma. Born in Prague, she grew up in New York City. Her reviews and articles have appeared in many newspapers, magazines, and websites.
Add to Calendar